Posted on
Wed, Jan 30, 2013 : 6:44 a.m.
Ypsilanti superintendent 'cautiously optimistic' about new district's finances
By Danielle Arndt
Previous coverage:
The Ypsilanti Public Schools didn't have to turn to pay-less paydays for teachers and staff during its low cash-flow periods in December and January, leaving Superintendent Dedrick Martin "cautiously optimistic" about finances.
"I believe we will be able to meet our financial obligations for the rest of this school year," Martin said. "As long as we continue to watch our expenditures and to control and contain costs whenever possible."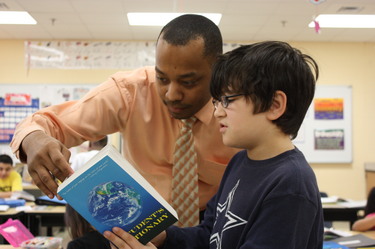 AnnArbor.com file photo
Martin's remarks to
AnnArbor.com
came only minutes after learning a pipe had burst in the district's administration building. He explained unexpected malfunctions and repairs are what keep him from definitively saying staff can expect every paycheck from now until June.
"More than likely we'll be fine," he said. But Martin's caution stems from the fact that the district has "no cushion."
"If we had money in the bank, if we had a fund balance, we wouldn't have needed to sound the alarm," he said.
In July 2012, Ypsilanti officials alerted district employees of a cash-flow problem that could prevent staff from receiving paychecks at various points throughout the school year.
The district made it through the low points in September and December. It also was projected to have insufficient funds to pay employees on time in January and February.
However, the district received some additional information earlier this month about its maintenance of effort special education funding that has led school officials to proclaim they'll make it through the year. This funding is given to districts for maintaining the same level of program costs per student from year to year.
Martin said the state analyzes cost-per-student ratios annually to ensure special education students are having their needs adequately met and to prevent districts from cutting costs or services too rapidly.
At the start of this fiscal year, July 1, 2012, Ypsilanti was informed it had done just that — cut costs in this department too rapidly. It was at risk of being docked about $1.5 million in maintenance of effort funding because of this.
Prior to July, when approving its 2012-13 academic year budget, Ypsilanti Public Schools reduced its special education staff by about 45 positions. When school officials learned about the $1.5 million loss in funding, they recalled a number of those special education staff.
Martin said by cutting these 45 positions, the district was actually "right-sizing" itself and, in a sense, was punished for being more fiscally responsible.
"We were overstaffed in this area. … (The cuts) were to make us more in line with the minimum requirements by law and with the (special education) services of other districts," he said. "It seemed so bad at the time, what we were doing, to the outside person. But we had not been diligent. For years we had the luxury of having more staff."
Martin said school officials were not notified until recently whether they would receive all of the district's maintenance of effort money. He said some is still up in the air.
Special education retirements and resignations do not count against the school district; and throughout the current academic year, YPS has had some resignations and retirements that it did not refill to bring the special education department back to "about where we need to be" as far as staffing, Martin said.
He said if the district had a fund balance, school officials likely would not even be talking about the slight possibility of this special education money still impacting paychecks.
"It feels wrong to people or like scare tactics, but we want to be transparent," he said.
And when unanticipated things happen — like a pipe bursts or a boiler stops working — it can impact a cushion-free budget "significantly."
Martin described it as similar to a personal or household budget that's impacted when a car breaks down.
Typically, Ypsilanti Public Schools and Willow Run Community Schools would be starting their budget processes for the next school year within the coming month. Martin said normally by February, he's looking at state foundation allowance trends and student enrollment trends.
"But there is no trend data for closing two schools and creating a new one out of thin air," he said.
Ypsilanti and Willow Run will merge effective July 1. The new unified district, which should receive an official name Feb. 4, will open its doors to students in September.
How much the new district's operating budget will be is still unknown. Martin said school officials will work closely with budget experts from the Michigan Department of Education, the State Treasury Department and other local consultants to make some sound projections in the coming months.
Surveying parents and community members about where they intend to enroll their students will be important, he said.
"We also won't be saddled with presuppositions about teachers and programs. We'll be starting from scratch and as long as we do so conservatively, … (creating the new district's budget) will be mission challenging, not mission impossible."
Danielle Arndt covers K-12 education for AnnArbor.com. Follow her on Twitter @DanielleArndt or email her at daniellearndt@annarbor.com.