Posted on
Thu, Nov 22, 2012 : 6:30 p.m.
Ypsilanti Fire Department: On Thanksgiving, we all have a lot to be thankful for
By Katrease Stafford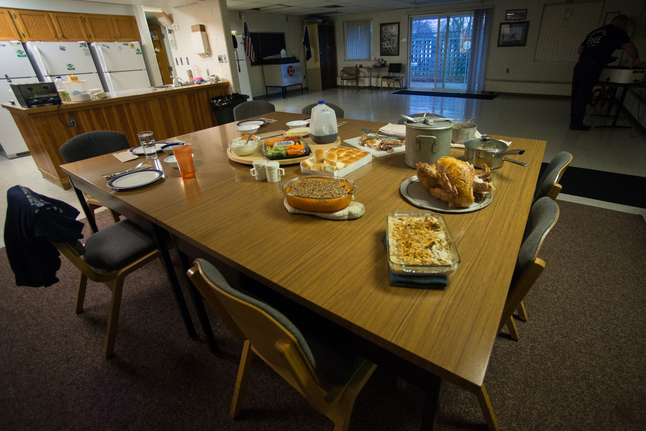 Courtney Sacco | AnnArbor.com
Thanksgiving for the Ypsilanti Fire Department is like a family affair — or at least that's what they try to make it on a day that sees the same amount of runs and calls as any other.
"Truthfully for us it's another work day," said Captain Dan Cain. "We come in and our work schedule doesn't change much... We've had runs today and the emergencies still come."
Cain said in the past, the department has responded to serious calls such as fires and life-threatening medical issues.
"We were talking about one of the worst things about working a holiday is the world still spins," Cain said. "We've had people that have had cardiac arrest. One time, I had a chimney fire where a lady was going to have 50 people over... Those kinds of things are bad, but when you do them on the holiday it upsets people a lot more."
"When the bell rings on a holiday and someone's having an emergency, I think it makes it 10 times worse."
In the midst of the runs, the department still tries to have a bit of holiday normalcy. The team puts together a dinner every year that has all of the usual trimmings, even turkey and dressing.
"We have a lot of things to be thankful for," Cain said. "We'll eat at five like we always do and we'll have some laughs and a nice meal."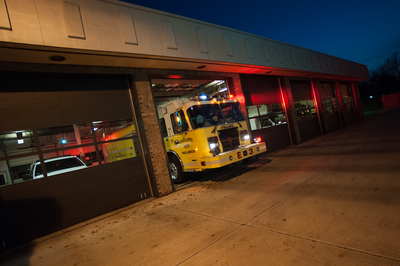 Courtney Sacco | AnnArbor.com
Sometimes family members stop by to celebrate the holiday with their loved ones, but most of the time it's just the team on duty who are there. Cain said many of the firefighters designate the holiday on another day. Cain said his family will probably celebrate on the weekend.
"The families understand that," he said.
Fire Chief Jon Ichesco isn't working this Thanksgiving, but he reflected on the times where he had to be away from his family to work.
"I was usually the cook," Ichesco said. "Depending on your load for the day, it can be very busy. You attempt to plan things around the meal, but you might be eating on the run...You get used to leftovers."
Despite the fact that they're away from their own families to protect others, Ichescho said, the department usually bands together on holidays and the mood is upbeat.
"Your family becomes the platoon or shift that you work in and that's your family for the day," he said. "You become family and you have your friend's back... Everyone sits down at the table when they can eat."
Ichesco said four people are on duty Thursday, and he noted that staffing with fewer people remains an issue for the department, even on a holiday. In October, it was announced that staffing levels have decreased from five per shift to four.
Captain Max Anthourard said the department is thankful to have a close relationship with the surrounding community. Anthourard said he noticed the turkey in the refrigerator Wednesday and believed it was from a community member.
"In Ypsi, we're pretty fortunate because we're close to our community and there's always a citizen that thinks about us," Anthourard said. "Just knowing that we're appreciated matters."
Katrease Stafford covers Ypsilanti for AnnArbor.com.Reach her at katreasestafford@annarbor.com or 734-623-2548 and follow her on twitter.