Posted on
Mon, Jun 3, 2013 : 5:57 a.m.
Ypsilanti to reconsider emergency moratorium for medical marijuana facilities
By Katrease Stafford
After delaying the decision to impose an emergency moratorium on medical marijuana dispensaries and grow facilities, the Ypsilanti City Council will reconsider the proposed ordinance Tuesday.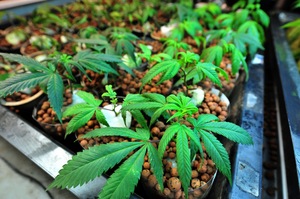 The council delayed its decision at a May 21 meeting, citing a need for more information, specifically in regards to the legality of imposing a moratorium with businesses halfway in the process of opening in the city.
Council member Ricky Jefferson and Mayor Pro Tem Lois Richardson brought forth the ordinance, which requested no additional permits and licenses be granted related to medical marijuana until city staff reviews the present density of licenses already granted.
Council voted 4-3 to table the ordinance.
Jefferson said his main concern was the high number of facilities being located within Ward 1.
Ypsilanti has the following dispensaries and grow facilities within city limits:
Ward 1 has two dispensaries, with one potential dispensary. The ward also has one grow facility and one potential grow facility.
Ward 2 has one dispensary.
Ward 3 has three dispensaries and one potential grow facility.
Several community members attended the May 21 meeting to voice their disapproval of more dispensaries opening in the community — particularly Ward 1.
Victoria James, a lifelong Ypsilanti resident and area pastor, said at this time, the last thing the city needs is additional medical marijuana facilities opening.
"That's just not what this city needs," James said. "I embrace people wherever they are, but that is not what needs to happen at the entryway of the city of Ypsilanti."
Yet, some residents and dispensary owners had a different belief and stated the businesses are good for the city and local economy. Ypsilanti resident John Evans, who spoke at the May 21 meeting, is slated to present before council Tuesday the "History/Synopsis of Medical Marijuana."
The Ypsilanti City Council meeting will begin at 7 p.m., following a closed session meeting to discuss pending contract negotiations.
Katrease Stafford covers Ypsilanti for AnnArbor.com.Reach her at katreasestafford@annarbor.com or 734-623-2548 and follow her on twitter.