Posted on
Tue, Apr 9, 2013 : 5:58 a.m.
Gault Village Plaza Kmart demolished, but Ypsilanti Township says issues remain
By Tom Perkins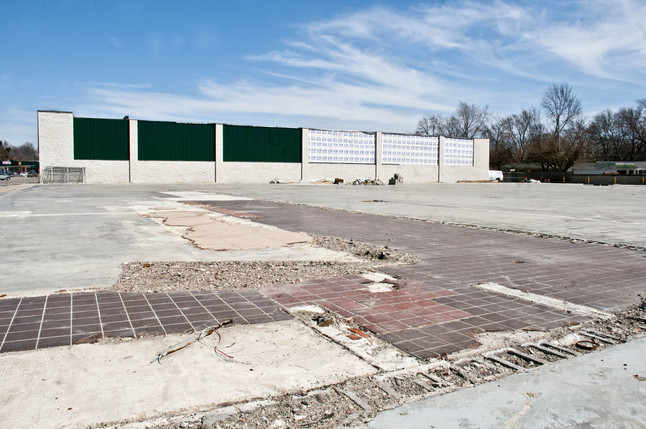 Tom Perkins | For AnnArbor.com
Ypsilanti Township officials are hopeful renewed court pressure may soon bring an end to the many issues surrounding the partially demolished abandoned Kmart off Grove Road.
In early September 2011, Washtenaw County Circuit Court Judge Donald Shelton ordered Union Lake Associates to demolish the Kmart connected to the Gault Village Shopping Plaza that the company owns within 60 days.
But the project is still not complete.
That put Ypsilanti Township and an attorney for Sylvan Township-based Union Lake back in front of Shelton on March 27.
But township attorney Dennis McLain said Shelton ordered the attorney to bring Union Lake's managing partner, Michael McGlothin, into the courtroom on April 24 to provide an explanation as to why the company has ignored Shelton's order to demolish the property for well over a year.
As of April 5, the entire Kmart building had come down and crews were working on a new exterior wall next to Measurement Inc., a business that grades standardized tests for Michigan schools. Measurement Inc. was previously attached to the Kmart, so a new exterior wall has to be built as part of the demolition project.
"Apparently we got their attention," McLain said when told that crews were once again working on the wall, though he expressed frustration that the company needed the threat of being held in contempt of court to complete the project.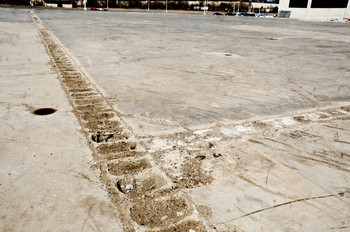 Tom Perkins | For AnnArbor.com
Among other issues, the Kmart, which is on the west side of the 235,000-square-foot shopping center along Grove Road near Interstate 94, had a collapsing roof, crumbling outer wall and mold infestation.
The store was been abandoned for more than 20 years before demolition started on Dec. 20.
The entire plaza also has seen a variety of issues ranging from crumbling walls to mold infestation.
McGlothin coud not be reached by AnnArbor.com.
Although the wall appears to be nearing completion, there are a variety of smaller issues that also must be attended to, McLain said.
Among those:
A cinder block perimeter remains in the ground and is considered a hazard. Per the demolition agreement, Union Lake was to leave a completely smooth surface.
Sewage holes where the toilets were in the store were left unplugged.
Hydraulic fluid was left on the site near where the hoists in the Kmart body shop were set up.
Mold remained on the outside Measurement Inc.'s wall.
No maintenance plan has been developed for the problematic plaza.
McLain said the township will have to conduct a final inspection after Union Lake says it has completed the work.
Tom Perkins is a freelance reporter. Contact the AnnArbor.com news desk at news@annarbor.com.