Posted on
Mon, Jun 3, 2013 : 5:58 a.m.
Cost is an obstacle as Ypsilanti Township tries to meet high demand for security cameras
By Tom Perkins
In response to demand from neighborhood associations, Ypsilanti Township is exploring expanding the public camera surveillance program it piloted in West Willow.
But the cost of purchasing, installing and providing service for the cameras is expensive, and neighborhoods will likely have to pay for the cameras with residents' own money.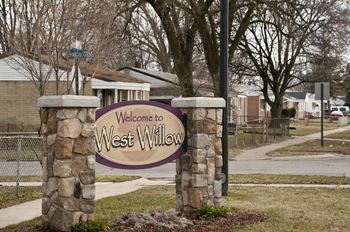 Tom Perkins | For AnnArbor.com
Jeff Allen
, director of neighborhood services, and Trustee
Stan Eldridge
broke down estimates on the cost of providing cameras for the Board of Trustees at a recent regular meeting.
The trustees did not take any action, though they may at a future meeting.
West Willow, for example, has five cameras that monitor the few entrances to the neighborhood and several other areas within. Those cost the township around $30,000 in the first year.
"What has happened is that it's an expensive endeavor," Allen said. "We're not having appropriate funding, and we can't continue to do that at the current funding rate and with the millage situation."
The township is asking residents to approve increases for three millages in November and has been hit particularly hard by the loss in revenue from decreasing property values.
Allen said the Board of Trustees would have to approve how to handle charging residents for cameras, but he said one idea is having the neighborhood associations vote on camera installation. If the vote passed and the cameras were installed, the charges could potentially be rolled into residents' tax bills.
But Allen said he doesn't know if such an approach is even legal or how fluctuating rates would be handled.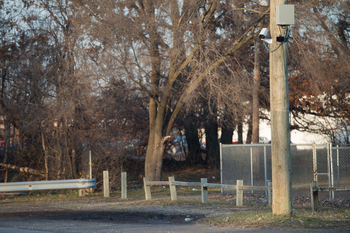 Courtney Sacco | AnnArbor.com
The township and law enforcement officials have
touted
the success of the camera program. West Willow saw a drop in crime last year, though there is no hard evidence linking it to the installation of cameras and was more the result of a multifaceted effort between the neighborhood association, sheriff's department and township.
In May 2012, the images provided by the cameras directly led to the arrest of a man accused of sexually assaulting several minors in West Willow.
The cameras are fixed in place in five locations, cannot zoom, only record public places and do not face any homes. The cameras are wireless, transmit images via cellular service and are attached to DTE Energy-owned utility poles. The camera and its supporting metal pole can be moved and reattached to a different utility pole if necessary.
The cameras start recording still images upon detecting motion in an area and transmit full color images back to a central computer. The images are selectively downloaded by the sheriff's department for investigative purposes. Images not downloaded are over-written by the device every four to five days, depending on the volume of activity.
The cameras don't provide a live stream and no one regularly monitors the recordings. Instead, police could preview and download the images from a local computer at the police station as needed. Multiple deputies are trained in using the equipment.
"I would say there's high demand for the cameras," Allen said. "Now would that stay the same based on costs residents would be charged? I don't know."
Cameras were also placed in Harris Park and the Grove Park Neighborhood.
The cost to purchase one camera is $3,900, and a server that would support 32 cameras is an additional $3,800. Installation costs another $600 per camera.
Verizon's 4G service costs $40 per month, which costs an additional $480 annually. There is a one-time setup charge of $250 and an annual system charge of $500. Camera and software service charges of $141 per month add nearly an additional $1,700 to the annual bill.
Tom Perkins is a freelance reporter. Contact the AnnArbor.com news desk at news@annarbor.com.