Ypsilanti Township moves forward with 4 major demolition projects of blighted properties
Posted on Fri, Jun 29, 2012 : 5:57 a.m.
Ypsilanti Township has taken the next step forward in four demolition projects, two of which have long been significant blight issues along Grove Road.
At its Monday meeting, the Board of Trustees approved requests for proposals to demolish the Liberty Square Complex on South Grove Road just east of Rawsonville Road.
Earlier in the day, a Washtenaw County Circuit Court judge ordered the owners of the Gault Village Plaza near Grove and Interstate 94 to begin demolition by July 16.
"I recognize the momentous occasion that on the very day Kmart is ordered demolished at one end of Grove Road, at the opposite end we're bringing in requests for demolition of Liberty Square," Building Director Ron Fulton told the board.
The board also approved the demolition of a property at 1766 Eileen St. owned by jailed landlord David Kircher. The landlord had contended in front of Washtenaw County Circuit Court Judge Donald Shelton that the house was still in good condition, though Fulton said even Kircher's bankruptcy trustee felt the home was worthless and wouldn't be included in a recent auction of Kircher's properties.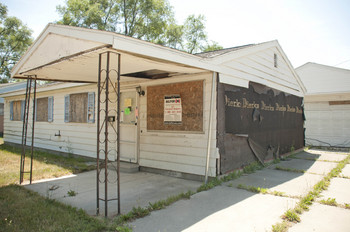 Tom Perkins | For AnnArbor.com
Kircher is serving a five-year prison term for illegally dumping waste into the Huron River and recently filed for bankruptcy.
"That house has been a nightmare for neighbors for years," Township Attorney Doug Winters said. "They couldn't even go outside and have a nice barbecue on a nice night like tonight."
The township also is seeking requests for proposals at 1200 Red Leaf Lane, where a man was found living in a house saturated with dog feces and urine. The house was in such terrible condition that it was ordered demolished within 45 days in March. The owner has been unresponsive and the house has not been cleaned, so the township is moving forward with the demolition.
"We want to make sure the neighbors don't have to live with that stench and blight," Fulton said.
But the largest project is the Liberty Square demolition. Officials were please to recently learn that a comprehensive asbestos study of the property found that only 11 of the 151 units in the complex contained minor amounts of asbestos in the kitchen linoleum.
Fulton said five companies the township regularly works with on demolition projects were contacted and an ad has been placed in a local newspaper. Aside from the asbestos abatement, the project is not too complex, Fulton said. But he added it is large because it involves tearing down 17 buildings.
Proposals are due by July 12, and the board of trustees could vote on a proposal at its July 23 meeting.
The project's funding remains the biggest question mark. The township is seeking state assistance and grant dollars to help with the demolition, though it won't hear back on any of those requests until sometime in July.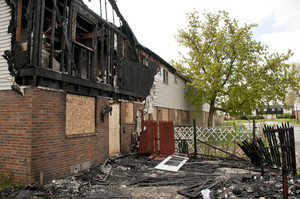 Tom Perkins | For AnnArbor.com
Winters said Liberty Square has been a trouble spot for decades and officials are relieved an end is in sight.
"Nobody can really appreciate the amount of resources drained from the township into that complex," Winters said. "The fact that it has now been vacated and is in a position where it can be demolished so it is again ripe for redevelopment - it's nothing but a plus for the whole community."
Township officials have been trying to get the owners of the Gault Village Shopping Plaza to tear down the Kmart for several years. The building has a collapsing roof, cracked outer wall and mold infestation, among other issues.
The 235,000-square-foot plaza is owned by Sylvan Township-based Union Lake Associates, who were ordered by Shelton to tear down the Kmart there by the beginning of November and make other repairs throughout Gault Village.
Fulton said Union Lake has claimed they have been financially unable to do so.
The project is complex because Measurement Inc., a company that grades standardized test scores from local school districts, inhabits the adjoining unit in the plaza. A new exterior wall will be built eight feet from Measurement Inc's interior wall and the building will be torn down.
Union Lake plans to subsequently split the lot from the rest of Gault Village and sell it, Fulton said.
Demolition is expected to begin by July 16 or the case will go back in front of Shelton.
"Gault Village has been a challenge for us ever since the freeway exit closed," Winters said. "It used to anchor a very successful plaza, but obviously the area has somewhat been impacted and on top of that you have the refusal of the owners to maintain the property."