Posted on
Fri, Jun 21, 2013 : 5:59 a.m.
Willow Run bomber plant: Yankee Air Museum races to meet deadline as officials wary of demolition
By Tom Perkins
A massive $37 million demolition and cleanup of the former General Motors Willow Run Powertrain Plant is set to begin this summer.
But the former GM plant also is the former "Arsenal of Democracy", and township officials say they don't want the property's owner, Revitalizing Auto Communities Environmental Response Trust (RACER), to forget the factory's place in local and national history.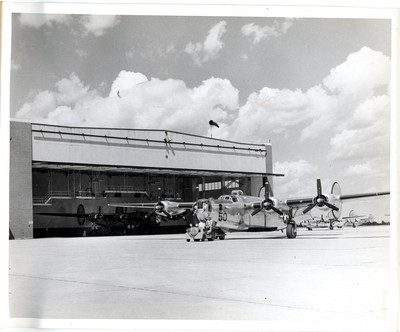 Taken by Ford Motor Company and property of Yankee Air Museum
That could be a sticking point when it comes time for the township to
approve the demolition
.
The RACER trust took control of the site and GM plants in 14 other states when the company went through government-sponsored bankruptcy.
In late April, the Yankee Air Museum, which operates out of an adjacent property, announced it was trying to raise the funds to purchase and preserve 185,000-square-feet of the plant where the B-24 Liberator bombers rolled off the assembly line during World War II.
"For us, it's not just about demolishing a 5-million-square-foot factory; it's also a major part of our history that's being wiped out," Township Attorney Doug Winters said. "People don't realize the emotional fervor it strikes in people who were born and raised in that plant. And you're talking about one of the most iconic industrial complexes in the world that was instrumental in defeating Nazi Germany in World War II."
If the money is not raised by the deadline, that part of the plant will be demolished.
"It is going to be hard for us at the township to sign off on a demolition plan that includes the area of that plant that the Yankee Air Museum is trying to save," Winters said. "That would be totally unacceptable from our standpoint. There has to be some kind of value to the role that plant played."
Per an agreement with the RACER Trust, the museum has until Aug. 1 to raise the $6 million necessary to complete the project. But some township officials contend the short time frame and amount of money to be raised are difficult targets. They are hopeful RACER will continue to work with the museum to make the project happen.
"It is our hope that the RACER trust gives the Yankee Air Museum the assistance they need to make the project a reality and preserve the history of Ypsilanti Township and our country. Their proposal will create jobs and they will be a major player in the redevelopment (of the plant)," Township Supervisor Brenda Stumbo said.
Bruce Rasher, RACER's redevelopment manager, said the trust must consider certain criteria in any sale of trust property, which includes that a purchasing party must have the funds to carry out their plans and renovate the property in a manner that complies with state and local codes.
"Those terms were discussed at length with the Yankee Air Museum, and they understand that this is the opportunity," Rasher said, adding the trust is supportive of their fundraising efforts and has granted access to the area the museum is trying to save.
The renovated 185,000-square foot building would allow the Yankee Air Museum to store all of its planes and other items under one roof. Currently flyable planes and the museum are in separate facilities, and around 15 airplanes sit outside where they can't be viewed during winter for lack of space in their current 40,000-square-foot building.
Yankee Air Museum founder Dennis Norton said the museum is making progress on its campaign. It has raised $150,000 through small donations, and meetings with potential large donors who could put six or seven figure donations into the campaign started this week.
"Both are important, but to reach the $5 million to $6 million mark, we've got to find a half dozen or so people who can drop a $1 million who think this is just really cool and saving this plant is a thing to do," Norton said.
He said RACER has been helpful with some cost savings efforts such as saving parts of the infrastructure that brought the cost of the project down by several million dollars. The time frame hasn't been an issue, Norton said.
"They gave us a certain amount of time and we're thankful we have that time to do it," he said. "One of the things a short time frame does is make it urgent, so that's part of our marketing.
"And by God, we'll do the best we can."
Anybody wishing to donate to the cause can look for more information at savethebomberplant.org.
Tom Perkins is a freelance reporter. Contact the AnnArbor.com news desk at news@annarbor.com.