Posted on
Mon, Aug 30, 2010 : 6 a.m.
Ypsilanti Township voters asked to approve millage in November to increase police protection
By Tom Perkins
Ypsilanti Township residents are being asked to boost their level of police protection by funding a 1.5-mill tax levy that will be decided in November.
If approved, the millage would raise just over $2 million in its first year and allow the township to contract with the Washtenaw County Sheriff's Department for up to four more deputies. That would equate to an additional $150 in taxes annually through 2012 for the owner of a home with a taxable value of $100,000.
In November 2009, residents voted down a similar 2-mill levy by 168 votes. Because that millage was defeated, the township's coverage dropped from 38 to 31 deputies, and that number will likely decrease to 29 on Jan. 1 if the new millage fails.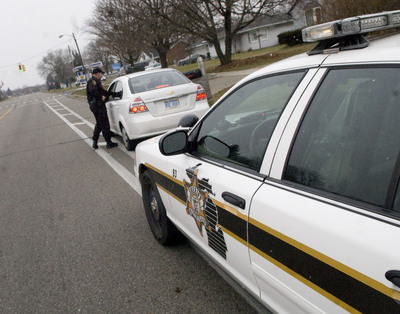 Tom Perkins | For AnnArbor.com
Ypsilanti Township has been hit hard by a decrease in its industrial tax base, has the highest rate of foreclosures in Washtenaw County and has seen a drop in property value. Officials are projecting a 3 percent to 4 percent loss of revenue from property value in 2011, which is roughly equivalent to the cost of one deputy.
The township also has been forced to contend with a sharp increase in the price of a deputy, which is set by the Washtenaw County Board of Commissioners. In 2004, one deputy cost $83,854, while in 2011 that figure is above $160,000 - a jump of 91 percent.
The county is raising the per deputy rate by 4 percent this year, nearly equivalent to the cost of one deputy for the township. Money collected by the county covers the cost of one "police services unit," which includes costs for supervision, detectives, overtime and other factors.
"No one can sustain that," Ypsilanti Township Supervisor Brenda Stumbo said.
Ypsilanti Township and two other municipalities sued the county in 2006 over the rate increase. They claimed it violated a contract in which the county promised not to significantly raise the cost of a deputy before 2011.
A judge ruled against the townships in February 2009. Stumbo said it has been the position of many of the commissioners representing Ann Arbor that they have their own police department, and so should Ypsilanti Township.
"It's a philosophical difference - public safety should be a concern to everyone," Stumbo said.
She added the township is meeting with representatives from the City of Ypsilanti on Sept. 13 to discuss sharing police services. One of the goals is to rely less on the county, which she said has been unpredictable.
Stumbo said the township hasn't seen a significant increase in crime, but sheriff's deputies are stretched thin in responding to the same number of calls. At its peak, 44 deputies patrolled Ypsilanti Township.
"The sheriff said there hasn't been an increase in level of crime, but there has been a decrease in service, so there's no opportunity for proactive policing," she said.
Police services make up roughly one-third of the township's budget. Stumbo said the housing market isn't projected to stabilize until 2013 at the earliest, and the township is expecting to take another financial hit from decreasing property values in 2012.
The township can't campaign for the millage, but the Board of Trustees voted unanimously to place the language on the ballot at a recent meeting. Mailers explaining the situation will be sent out to voters.
Township Clerk Karen Lovejoy-Roe said the situation is critical.
"We'll lose more deputies unless the board votes to cut and slash and burn somewhere else, but I don't know where that would be because we're down to the bone," she said.
In the last year, the township has reduced its fire force, reduced township employees' workweek from 40 to 32 hours and contracted for seven fewer deputies.
Tom Perkins is a freelance writer for AnnArbor.com. Reach the news desk at news@annarbor.com or 734-623-2530.