Ypsilanti Township voters approve police services millage
Posted on Tue, Nov 2, 2010 : 11:37 p.m.
Editor's note: The millage rate has been corrected in this story.
Ypsilanti Township voters approved a police millage that will retain the number of Washtenaw County Sheriff's Department deputies currently serving the township.
According to unofficial results from the Washtenaw County Clerk's office, 58.35 percent of voters approved the 1.5-mill tax levy. With all 20 precincts reporting, 8,717 residents voted for the proposal while 6,222 voted against it.

The millage will generate $2 million in revenue when levied on Dec. 1, and residents whose homes have an assessed value of $200,000 will pay an additional $150 annually for the life of the three-year millage.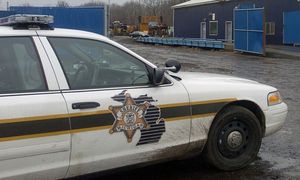 Township officials feared they would lose seven to 10 more deputies over the next two years if the millage failed. While officials are hoping to add more deputies with the new revenue, doing so is contingent on how much the county's per deputy cost increases and how far township tax revenues continue dropping.
Residents rejected a similar 2-mill levy in November 2009 by a margin of 168 votes. That dropped the number of deputies patrolling the streets — which doesn't include the detective bureau and command staff — from 38 to 31.
Township Supervisor Brenda Stumbo attributed the success of the millage this year to the larger election and a more educated electorate.
"More voters had the option and they had a lot more information to make a good decision," she said. "This maintains the police protection in the township, which is widely important to every community, and we are just extremely grateful to the voters."
Mike Radzik, the township's director of police services, also said the township worked hard to get factual information out to voters and called it "gratifying" that residents took that information and approved the millage.
"It's a difficult thing to ask voters to raise taxes in this economic condition, when so many people are hurting," he said. "You don't go out and ask for more money unless you've already done some internal self-reflection in your budget and made all possible cuts.
"But (voters) were armed with the facts to make a reasonable decision and police service is one of the top core services government provides, and I think they had a better understanding of totality of situation as opposed to a year ago."
The township has been hit hard by a decline in its industrial tax base, a steep drop in property values and a high rate of foreclosures. The township assessor recently reported a 12 percent drop in taxable value and a 10 percent drop in tax revenues over the last two years.
Concurrently, the township has had to contend with sharp increases in the per-deputy cost handed down by the Washtenaw County Board of Commissioners. The cost of one deputy has increased by 6 percent over the last two years, which is roughly equivalent to 1.5 deputies. That per-deputy cost has risen by 92 percent since 2004.
The township was keeping its current levels of police services by drawing from the police fund balance, and those savings would have been entirely depleted by the end of next year.
Township officials said they still don't know what the near future will bring financially, but are confident they can sustain current levels of police services for the next three years.
"I don't want to give false or unrealistic promises and predictions in terms of what could happen, but clearly there's a little more breathing room in terms of police protection," Radzik said. "It has been a challenge to maintain core services."
Officials have underscored the vote in no way impacts recent talks with the City of Ypsilanti on forming a joint police authority.
Several other townships countywide had similar police millages on their ballots. In Augusta Township, voters rejected a 1.8-mill levy to provide service to the township. In Northfield Township, which does not contract the Sheriff's Department, voters renewed a 1.4603-mill levy, while in Bridgewater Township, voters renewed a 1.25 mill levy.
Officials countywide who comprise a Police Services Steering Committee will be presenting a report Thursday to the county board on what they determine to be the true cost of providing one deputy to contracting municipalities. The intent to is to help bring consensus to the county's cost of providing police services.
Sheriff Jerry Clayton said he's pleased with the outcome, and it shows the community values police services.
"I know it's hard to vote for any increase of taxes because of the financial challenges we face," he said. "It indicates there's a recognized value of police services in the community, and hopefully a recognition of the value of service the Sheriffs Office provides."