Ypsilanti, Willow Run spreading consolidation message at community events
Posted on Sun, Sep 2, 2012 : 1:47 p.m.
Before the community is asked to vote on merging the Ypsilanti and Willow Run school districts, leaders will host a variety of public meetings to inform residents about what a "yes" vote for consolidation could mean.
Leaders will work to spread the message in any way they can — from the pulpit at local churches to the field at school sporting events.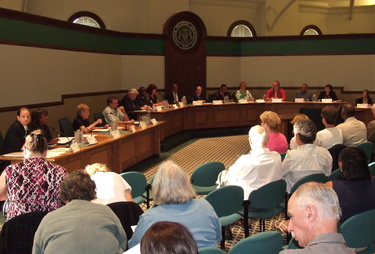 Danielle Arndt | AnnArbor.com
Ypsilanti and Willow Run school boards approved placing the question of merging districts on the Nov. 6 general election ballot at a joint meeting on Aug. 8.
The districts have launched a mass-marketing campaign to ensure voters understand the impact of consolidation. The real push will begin after school starts, when families are back together in one place and paying attention to school issues after the long summer break, district leaders have said.
But school officials already have been busy, conducting radio interviews, attending a West Willow picnic on Aug. 11 and meeting with the West Willow Neighborhood Association on Aug. 20.
Connecting with the various neighborhood groups is a major focus for the schools. District leaders will present on the consolidation to the Gault Village Area Neighborhood Watch on Sept. 24.
Three initial meetings for the general public have been set as well:
7 p.m. Wednesday, Oct. 10 at Christ Temple Baptist Church, 2372 Holmes Road, Ypsilanti Township
6:30 p.m. Thursday, Oct. 11 at Community Church of God, 565 Jefferson St., Ypsilanti Township
6:30 p.m. Wednesday, Oct. 24 at the Ypsilanti District Library, 5577 Whittaker Road, Ypsilanti Township
The idea of reaching out to churches was a suggestion made by one community member at a public brainstorming session in July. Churches were said to be gathering places for segments of the Ypsilanti area's population. Football games also were targeted as an optimum venue for promoting or dispersing information to the community because of the large crowds that gather.
The Minister's Alliance of Ypsilanti, Ann Arbor & Vicinity pledged its support of the unification effort via a letter in July. As a result, pulpit visits will be scheduled between now and November. One will take place at 10:25 a.m. Oct. 7 at the Second Baptist Church, 301 S. Hamilton St., and another is planned for 11:15 a.m. Oct. 14 at the Messias Temple, 200 Harriet St.
Dates for appearing at sporting events have yet to be established, according to a "Communications Initiatives" schedule posted Tuesday on the website for Ypsilanti and Willow Run's unification.
A recent survey, conducted by research firm EPIC-MRA, showed that a majority of residents in the Ypsilanti area might be willing to support consolidation. Forty-five percent of survey takers said they would vote "yes" on Nov. 6, and 11 percent said they were leaning toward voting "yes."
To view a complete listing of opportunities for engagement in the unification discussion, download this schedule of communications initiatives. Check back frequently at together4ss.org for updated and additional meeting times.