Posted on
Sat, May 4, 2013 : 5:58 a.m.
Unanswered questions: Ypsilanti, Willow Run teachers shocked and saddened by hiring decisions
By Danielle Arndt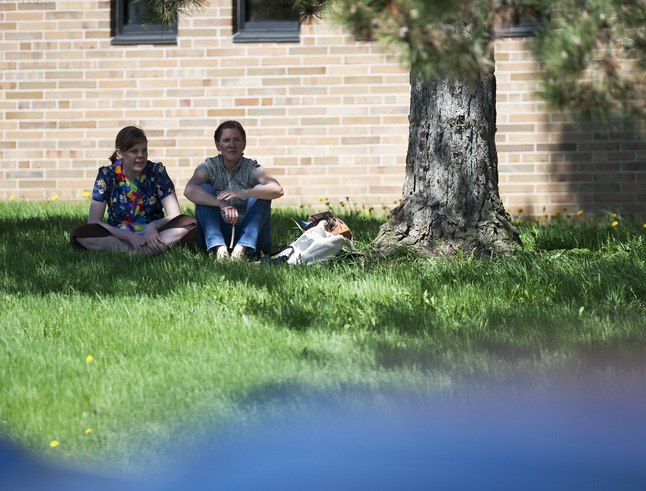 Daniel Brenner | AnnArbor.com
Despite 66 percent of teachers receiving "good news," the mood was a combination of somber, surreal and incredulous at Ypsilanti and Willow Run schools Friday afternoon, after teachers in the two merging districts were given notice of their employment status in the new consolidated district.
One hundred and seventy-one teachers from Ypsilanti and Willow Run were told they definitely have positions within Ypsilanti Community Schools when it launches July 1. Another 32 teachers were placed on a callback list and could be hired by the start of the 2012-13 academic year, depending on how enrollment projections and budget numbers shake out.
Even those teachers from Ypsilanti and Willow Run who were offered positions in the consolidated district had mixed emotions. And if one thing was clear as teachers left their buildings Friday: there was no cause for celebration.
One teacher sat quietly in her car in the staff parking lot behind Ypsilanti High School waiting for a colleague. She said the school day itself was "fabulous" and that she loves her students. She was smiling, but her voice was heavy and laced with emotion.
Teachers throughout the school echoed these sentiments, saying they felt truly adored and supported by their parents and students on Friday, despite the looming envelope they faced at the end of the day.
Past Ypsilanti High School graduates visited the school Friday to say hello and to give hugs to their former teachers, wishing them luck, several staff members recounted.
Ypsilanti foreign language teachers Barbara Martin, Spanish, and Frances Heires, French, found solace in the grass under the trees behind the high school.
The teachers sat cross-legged, quietly reflecting on what they described as an overwhelming, but relieving day. They both had received commitments for the next school year, but they almost didn't open their letters.
"We contemplated waiting until June," Martin said. "You know, we just wanted to keep as calm as possible for our students ... and had it been a 'no' it would have been a hard thing ... I didn't want it to change how I was with my kids."
When the two teachers went down to the office to pick up their letters, they said some teachers grabbed theirs and immediately left, while other staff members opened their notices in the middle of the room, with people looking on.
Heires, a 4-year Ypsilanti teacher, said she had students waiting outside her classroom Friday after school to find out if she was "in or out" for next year.
Both language teachers said the most difficult part about the process was having such little time with the interviewing/selection committee, the committee's "poker faces" and not knowing what was expected of teachers. Martin described it as a "weird" and "mysterious" process.
"We understood it had to happen quickly (the interviewing) ... but so many people felt like 'my career is hinging on these 30 minutes,'" Martin said. "I didn't have a sense that they (the selection team) knew how to judge us as teachers in that amount of time... And after that — it was so quick, with so much built up around it — we were left hanging."
She said she was grateful school officials let teachers know as soon as possible in May because the waiting was stressful.
Martin and Heires said the next step will be trying to determine how to tell their students and how to handle colleague responses.
They said they both were often told by parents and students that they were good teachers and were well liked. But in going through the interview process, Martin, who has been with the district 8 years, said she still would not have been surprised if she had received a "no."
"It's all a numbers game," she said, explaining if half the students decided not to come back to the new district next year, that impacts teacher decisions, as does teacher certifications. She said the district can have only so many of one type of teacher.
Because it was determined one of the three small learning communities at the consolidated high school would be a New Tech program, it was assumed New Tech trained and certified teachers would be a hot commodity. But that was not the case for one Willow Run math teacher, Jessica Krueger.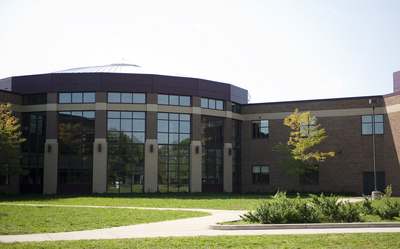 AnnArbor.com file photo
Krueger is a recent graduate from Michigan State University, so this is her first year as a teacher. But she has made a big impact in a short amount of time.
Her colleagues describe her as one of the best teachers at Willow Run High School and a favorite among staff and students alike. She also has been nationally recognized for her expertise in the New Tech model.
She was invited by the New Tech Network, the nonprofit organization behind the project-based learning program, to help develop a curriculum and projects for math as part of the organization's STEM (science, technology, engineering and mathematics) initiative. Krueger also was asked to present at this year's New Tech Network Annual Conference.
Krueger said when she opened her letter Friday and learned she would not be offered a position in the Ypsilanti Community Schools district, nor would she be placed on the callback list, she was shocked and devastated.
"Everyone had been telling me all week not to worry that I was good and I was cheap (being only right out of college)," she said, her eyes welling with tears. "Then to get a 'no' ... all I could think is: what did I do wrong?"
Almost all of Willow Run's high school teachers went to Principal Kelly Pennington's office together to collect their letters and to open them at the same time Friday after school, staff said. The teachers then spent nearly an hour in the office consoling each other and talking about their letters and what the news could mean for children in the district.
The teachers then moved to Sticks downtown Ypsilanti, where their conversations continued.
Many teachers expressed they believe the new district will lose a great deal of Willow Run families and students with some of the rehiring decisions that were made. High school teacher Blake Nordman said to many people in the smaller district, the entire merger feels like a "takeover."
Forty-three Willow Run teachers were offered positions in the new district, compared to 126 teachers from Ypsilanti. However, in total, Willow Run had about 90 fewer teachers apply for a spot than Ypsilanti did.
The 43 "yes" teachers from Willow Run equates to about 59 percent of the 73 applicants receiving jobs. Ypsilanti had about 69 percent of its 183 teachers who applied receive commitments and it had about 20 percent receive maybes. About 24 percent of Willow Run's applicants received maybes.
As teachers sat at Sticks in Ypsilanti reflecting on the day and the hiring process, many became angry and incredulous, asking how the new district's bar could have been set so high to exclude quality and committed teachers like Krueger and special education teacher Rachel Jenneman.
The teachers also demanded to see a breakdown of how many YHS teachers were guaranteed positions verses WRHS teachers, as well as a comparison of the middle and elementary school teachers who will be hired from both districts. This information was not immediately available Friday night.
Jenneman was another teacher who received a "no" notification on Friday, yet was praised by her peers as a phenomenal educator. One teacher, who asked not to be named, said even though he received a commitment from the new district, he will not be coming back if he can help it, knowing how teachers like Jenneman and Krueger were devalued.
Ypsilanti Community Schools and Washtenaw Intermediate School District Superintendent Scott Menzel said Friday during a press conference on the teacher selection process, that there may be a need to post externally for additional special education teachers for the consolidated district because not enough internal special education candidates met the high quality criteria that the new district outlined.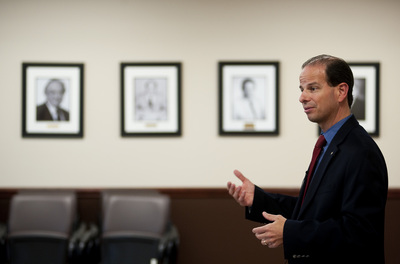 Daniel Brenner | AnnArbor.com
He said for any position that is posted externally, internal candidates who received a "no" initially are welcome and encouraged to apply for those jobs as they come up.
Jenneman said she was still too shocked to process the news Friday evening. She said all she could think about was having 10 IEPs (individualized education plans) for her students due in a little less than two weeks.
"I was already going to need to kill myself to do them. Now I feel like I need to do them extra well," she said. "These kids need good IEPs with having a new (teacher) coming in so that (he or she) can know them and know how to provide them an education that addresses their needs."
Menzel said prior to Friday's press conference, the most important perspective for teachers to keep in mind right now, despite it being difficult, is that if Ypsilanti and Willow Run had not consolidated, one or both school districts could have faced a state emergency financial manager.
He said if a state financial manager had been assigned to either district, there is no telling what might have happened to the districts' schools and teachers.
Consolidation allows for local decision-making and local control. He added advisory groups of educators, community and business partners, parents and students have been active throughout the merger in shaping the new district, and helped to identify the specific characteristics of an effective teacher that were used in the candidate selection process.
Menzel also acknowledged the seriousness of Friday's notifications in a statement.
"This has been a difficult process, and I recognize the impact this has had on the teachers, their families and ultimately the community," he said. "Unifying two districts meant there would be streamlining and a reduction in the work force. We knew there would be displaced teachers.
"It would be a mistake to assume that just because someone was not offered a position in the new district that they are not a good teacher. And we certainly want to assist those who were not selected in making the next steps in their careers."
Danielle Arndt covers K-12 education for AnnArbor.com. Follow her on Twitter @DanielleArndt or email her at daniellearndt@annarbor.com.