Posted on
Mon, Aug 30, 2010 : 6:02 a.m.
Ypsilanti, Ypsilanti Township to discuss sharing police services
By Tom Perkins
The Ypsilanti City Council and Ypsilanti Township Board of Trustees will hold a joint meeting on Sept. 13 to discuss the possibility of sharing police services.
Officials from both municipalities underscored that the talks are exploratory and are meant to determine the feasibility and interest in a partnership.
"This is very preliminary, we just wanted to discuss some basic issues and possible impediments that are there. Then we'll know more and see if the City Council and township board want to pursue it," Ypsilanti City Manager Ed Koryzno said.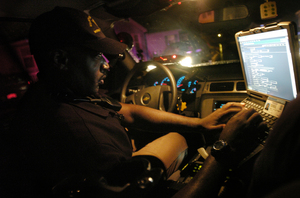 The township contracts for deputies with the Washtenaw County Sheriff's Department and the city has its own police force. Officials said the talks will help shed light on what legal obstacles a shared service agreement may present and how it could work financially.
The meeting will be held at the Ypsilanti Township hall. The City Council and Board of Trustees each have their own separate meetings following the joint session.
Both municipalities have been forced to reduce the number of officers patrolling their streets in the last year. Ypsilanti Township cut the number of deputies it contracts for from 38 to 31 after residents defeated a millage last November.
The Board of Trustees recently approved language for new 1.5-mill levy to go in front voters in November. Township officials say without its approval, they will likely trim the deputy force down to 29.
The township has faced a sharp drop in property value and high foreclosure rates in recent years. Concurrently, the Washtenaw County Board of Commissioners, which sets the per deputy cost, has nearly doubled the price of a police services unit, which is one deputy position.
The City of Ypsilanti recently eliminated 2.5 positions from its force, which will remain at the current levels for this and the following fiscal years.
Koryzno said the city and township have successfully managed partnerships in the Ypsilanti District Library and Ypsilanti Community Utilities Authority. The city and township are also working on greater cooperation between their fire departments.
Although the relationship has been cool at other times, Ypsilanti Mayor Paul Schreiber said he has maintained a good relationship with Ypsilanti Township Supervisor Brenda Stumbo.
"I would imagine that we would have a constructive relationship looking at police services," Schreiber said.
Stumbo said exploring the idea is necessary because the township's revenue keeps going down, while the cost of service keeps going up.
"With the level of service diminishing, we're looking at all alternatives for police services," she said.
The city, which is also facing a loss of revenue from declining property values and state-shared revenue, is looking at the situation in much the same light.
"I think the fact that you have declining taxable values across the state and the change in the economy in the state require everybody to look at how they provide services and avoid costs increases," Koryzno said.
Schreiber added that he would like to see a third party study the issue and said any arrangement would have to benefit both communities.
"We have a good police force as is, but we're having funding issues ... so maybe there is a way that we can build upon each others strengths," he said.
Tom Perkins is a freelance writer for AnnArbor.com. Reach the news desk at news@annarbor.com or 734-623-2530.