Posted on
Fri, May 31, 2013 : 5:58 a.m.
Ypsilanti's Gilbert Residence to unveil new $7.2M memory wing Friday
By Katrease Stafford
The Gilbert Residence in Ypsilanti will have a ribbon cutting ceremony Friday to mark the grand opening of its $7.2 million memory care unit wing.
The memory support wing incorporates the latest innovations in dementia care to provide better therapeutic outcomes for residents. The current facilities are being updated as well with a bistro-style eatery, movie theatre, library, lounge, game room and wellness center.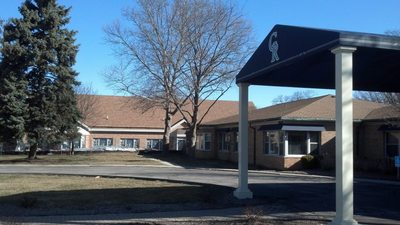 Courtesy Gilbert Residence
The Gilbert Residence board decided in 2010 to invest in building a large, new memory care building. CEO Derek McGill previously told AnnArbor.com the new wing was necessary because of the aging baby boomer population.
More than 5.3 million Americans are diagnosed with Alzheimer's disease or other related dementias and it is predicted that by the year 2050 those numbers will rise to more than 16 million, according to the Gilbert Residence.
Treatment and support for individuals with dementia and their caregivers is a critical issue in the local community and Gilbert officials believe current resources do not meet the growing demand.
The facility currently has a capacity of 72 residents, with 32 beds reserved for basic nursing care, 30 for assisted living and 10 specifically for middle to late-stage dementia residents.
The Gilbert Residence will increase its capacity to 92 beds, and have a total of 28 dedicated to memory care in the new 14,200-square-foot building that is now connected to the current 35,000-square-foot building at 203 S. Huron St.
The new memory wing is expected to house current residents once it's complete. The residents will begin moving into the new wing next Thursday.
McGill said The Gilbert Residence has around 90 employees and will be adding between 13 and 15 to help care for the residents.
In addition to new amenities, renovations on the existing building will provide an update that will make it ADA compliant and open up space to make it more accessible to people with walkers and wheelchairs.
"It's a tremendous opportunity for our community here," McGill said. "Not just from an occupancy standpoint, but from a relevancy standpoint. We're extremely excited. I've been an Ypsilanti resident for 13 years and as much as it's great for the Gilbert Residence, it's great for Ypsilanti as well."
The Gilbert Residence purchased the new property at 117 S. Huron from the American Legion on Jan. 7, 2011 according to city records for $98,600.
The ribbon-cutting ceremony is from 3 to 4 p.m. on Friday, May 31 and will be hosted inside the new wing.
Katrease Stafford covers Ypsilanti for AnnArbor.com.Reach her at katreasestafford@annarbor.com or 734-623-2548 and follow her on twitter.