Posted on
Tue, Apr 20, 2010 : 6 a.m.
"American Daughters: Reflections On Being Muslim in America" Panel Discussion at Ann Arbor District Library Thursday
By Frances Kai-Hwa Wang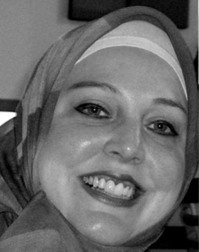 Heather Laird will be speaking at the Ann Arbor District Library Thursday on a panel discussion on Muslim women in America.
Photo courtesy of Ann Arbor District Library
Following
Michigan Radio
's week-long series on being
Muslim in America
, the
Ann Arbor District Library
, in conjunction with the
Interfaith Council for Peace and Justice
and the
University of Michigan Muslim Students Association
, will be hosting a panel discussion about being a Muslim woman in America this Thursday, April 22, from 7-8:30 p.m. at the downtown branch of the Ann Arbor District Library.
The panel of five women will discuss being Muslim in America from their own experiences and local perspectives. Discussion will center on the diversity of our community, how Muslims deal with the issues of multiculturalism, several tensions and barriers that exist in tackling this issue within the Muslim community as well as the broader community, and how these issues affect youth as well as adults. Discussion will follow.
The panel will feature Heather Laird, MPA, the Director for the Summer Arabic Institute and a Fellow for the Institute of Social Policy and Understanding (ISPU); Bayyinah Muhammad, ME; Stephanie Flower, ME; Mona Youseff, JD; Shirin Khan, MA & JD.
The downtown branch of the Ann Arbor District Library is located at 343 S. Fifth Avenue in Ann Arbor. For more information on this event call the Library at 734-327-4555.
Frances Kai-Hwa Wang is a second-generation Chinese American from California who now divides her time between Ann Arbor and the Big Island of Hawaii. She is editor of IMDiversity.com Asian American Village, lead multicultural contributor for AnnArbor.com and a contributor for New America Media's Ethnoblog. She is a popular speaker on Asian Pacific American and multicultural issues. Check out her Web site at franceskaihwawang.com, her blog at franceskaihwawang.blogspot.com, and she can be reached at fkwang888@gmail.com.