Posted on
Fri, Nov 20, 2009 : 4:21 p.m.
Ann Arbor's Ultimate Cultural Divide: University of Michigan vs Ohio State
By Frances Kai-Hwa Wang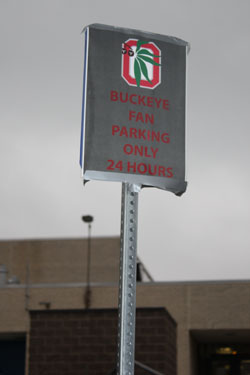 "Who put the Ohio State sign in the King School parking lot?"
There are many types of cultural differences—racial, ethnic, gender, sexual preference, religious, socio-economic, education, class—and many types of minorities struggling to have their voices heard, but there is no cultural divide in Ann Arbor so marked as that fueled by the
University of Michigan vs. Ohio State
rivalry.
Upon arriving at Martin Luther King Jr. Elementary School this morning, Principal Kevin Karr was dismayed to discover this act of resistance/sabotage in the school parking lot, which prompted a blog post in which he writes:
"Today when I arrived at King School, I was greeted with the following in the parking lot. When this type of thing happens at school, it is obviously VERY concerning . . . and it quickly sets in motion an investigation to find out who is responsible. Putting up Ohio State University signs in or around school is NEVER acceptable!"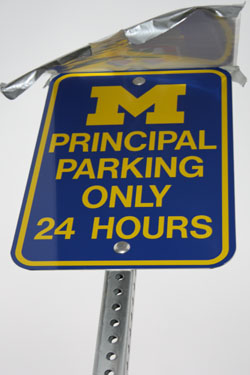 The King School Principal's parking spot sign usually sports a block M
This stern warning is followed by a very funny and light-hearted investigation of possible perpetrators and a poll asking King School families to vote on who they think the most likely culprit is.
A gust of wind reveals that the Principal's parking spot is usually designated with a big University of Michigan block M. Is that standard for Ann Arbor Public Schools?
Frances Kai-Hwa Wang is a second-generation Chinese American from California who now divides her time between Ann Arbor and the Big Island of Hawaii. She is editor of IMDiversity.com Asian American Village, lead multicultural contributor for AnnArbor.com, and a contributor for New America Media's Ethnoblog. She is a popular speaker on Asian Pacific American and multicultural issues. Check out her website at franceskaihwawang.com, her blog at franceskaihwawang.blogspot.com, and she can be reached at fkwang888@gmail.com.