Posted on
Thu, Sep 15, 2011 : 7 p.m.
In bowhunting, learn to scout the signs, and you could get a big buck
By Rick Taylor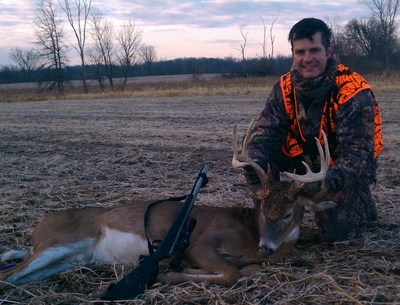 Rick Taylor | Contributor
The 54-degree weather on Labor Day certainly reminded us that autumn is soon upon us. It's hard to believe that the harvest season is right around the corner. Soybeans will be harvested during the first weeks of October and corn soon after that. The leaves too, will show off their illustrious brilliance that we all love so much this time of year.
But, like all good things the leaves will eventually fade and the once-thick forests will be bare again.
There's an unmistakable loneliness in nature when cooler weather prevails, yet it's a feeling many of us openly embrace.
The natural kingdom also knows that fall is a season of change. Squirrels gather their nuts and prepare for winter. Ducks and geese migrate down south to a warmer climate.
Whitetail deer also prepare for the fall and winter seasons by going through a number of biological changes. Testosterone rages through bucks all the way through the "rut". The "rut" can best be described as the timeframe of the sexual reproduction period during the fall and early winter months.
Bucks have been growing their antlers since the spring for a number of reasons. Antlers are used as a weapon to fight other bucks which can injure and even kill other bucks. Smaller racked bucks can be scared off just by the larger size of another buck's rack.
Bucks prepare for fighting each other by "rubbing" a series of trees with their antlers in order to strengthen their neck muscles. These trees that have been "rubbed" can be easily distinguished by missing bark starting about 18 inches off the ground to about three feet off the ground.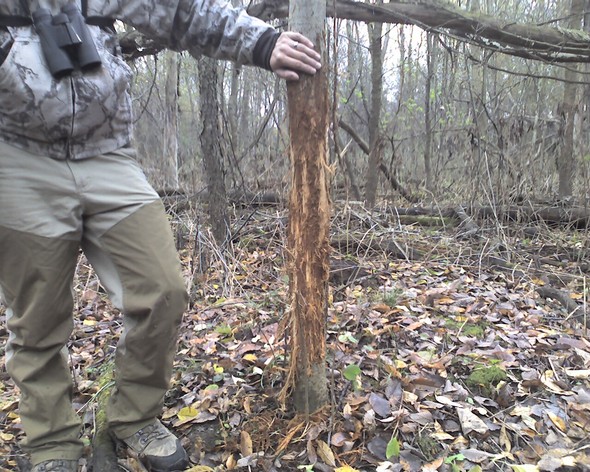 Author Rick Taylor found this "Buck Rub" while scouting in the Washtenaw county woods.
Finding "rubs" is an important scouting tool in the hunt for finding big bucks. Know this: all sized bucks can rub small trees but only large-antler bucks can rub big trees. Find a big tree that has been rubbed, and you'll find a big buck in that area.
Bucks will also use their hooves to remove leaves and mark an area of ground, called a "scrape," about three feet in diameter. The bucks will typically remove the leaves with their hooves, tear up the dirt and then urinate over the entire area.
Furthermore, these "scrapes" are created just under an overhanging branch called a "licking branch". Bucks will lick the overhanging branch and smear glandular oils which originate from glands near their eyes. Whew… I haven't even begun to talk about tarsal glands and a dozen other things that deer do to prepare for the fall season.
Does also go into estrus in early to mid-November. Estrus is the only time a doe can conceive a fawn. Bucks can smell this biological change by sniffing the rump of a doe and/or her urine. That's why you'll see bucks chasing does this time of year. They're trying to see if that doe is ready to mate.
Bucks put down their guard this time of year because they're so preoccupied with mating. It's this reason why the "rut" is the best time for hunters to hunt.
Be sure to have your hunting spots picked out for this season for they can change depending on the property owner.
Also remember to do your scouting! An educated hunter will always increase their odds by doing their homework. The fall turkey season starts the same day as the small game season if you were lucky enough to draw a tag.
The early goose season is on right now, with the youth deer season quickly approaching and regular archery deer season beginning on Oct. 1.
Good luck, be safe and shoot straight.
I'll be doing a story on the fall turkey hunt since I didn't harvest one this spring. I was lucky enough to draw a fall tag, so wish me luck.
Your story ideas and comments are warmly welcomed. Rick can be reached at 734-223-5656 or by email at rtaylor@reinhartrealtors.com.