Posted on
Thu, Apr 1, 2010 : 6:12 a.m.
GenAPA Asian Pacific American Cultural Show at Power Center
By Frances Kai-Hwa Wang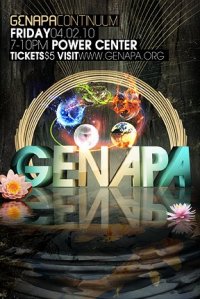 The 2010
GenAPA Cultural Show, Continuum,
will be this Friday, April 2, from 7 to 10 p.m., at the Power Center. The GenAPA Cultural Show is touted as one of the largest student-run Asian Pacific American (APA) cultural shows in the nation, showcasing the incredible talents of our University of Michigan students and featuring a wide variety of Chinese, Taiwanese, Filipino, Korean, Indian, fusion, hip-hop and contemporary dance; step;
hula;
martial arts; music (traditional Asian, contemporary, and a cappella); Chinese Yo-Yo; and much more.
Power Center
offers a spectacular backdrop to this annual event and Asian Pacific American students come from all over the Midwest in order to watch.

The students quite naturally and skillfully traverse the traditional and the contemporary to create something new. Many of the performing groups are multiethnic and multiracial, brought together by an interest in the art form and the community. Recurring themes are unity, strength, cultural diversity, tradition, history, the future.
Some of this year's performers include alpha Kappa Delta Phi Sorority, A Bunch of Friends, Amy Zhong, Chinese Student Association: rXn, Filipino American Student Association, Kappa Phi Lambda Sorority, Kopitonez, Korean Student Association, Lambda Phi Epsilon National Fraternity, Mike & Humphrey, Pi Alpha Phi Fraternity, Raas Indian dance team, Tawainese American Students Association Revolution Chinese Yo-Yo Team, and TAAL Indian fusion dance team.
An interesting aspect of GenAPA is that performers are all required to take part in several community building events so that they not learn only about their own culture, but also learn about other cultures and meet students in other APA organizations. GenAPA Core member, Jeff Liu, writes in an email, "One thing that's different from previous years is that groups are paired up and required to do collaborative acts; this helps facilitate cultural exchange and build ties within the APIA (Asian/Pacific Islander American) community."
GenAPA is put together every year by United Asian American Organizations (UAAO), a consortium of Asian Pacific American student groups, sororities and fraternities on campus, in celebration of National Asian Pacific American Heritage Month (which is technically in May, but because of the University of Michigan academic calendar, most campus events are scheduled for March and April).
Tickets are $5 in advance from Michigan Union Ticket Office (MUTO), and $10 at the door.
Frances Kai-Hwa Wang is a second-generation Chinese American from California who now divides her time between Ann Arbor and the Big Island of Hawaii. She is editor of IMDiversity.com Asian American Village, lead multicultural contributor for AnnArbor.com, and a contributor for New America Media's Ethnoblog. She is a popular speaker on Asian Pacific American and multicultural issues. Check out her Web site at franceskaihwawang.com, her blog at franceskaihwawang.blogspot.com, and she can be reached at fkwang888@gmail.com.