Posted on
Tue, Oct 11, 2011 : 7:55 p.m.
How much is your butcher bill? Hunting is an inexpensive way to put organic-fed meat in your freezer
By Rick Taylor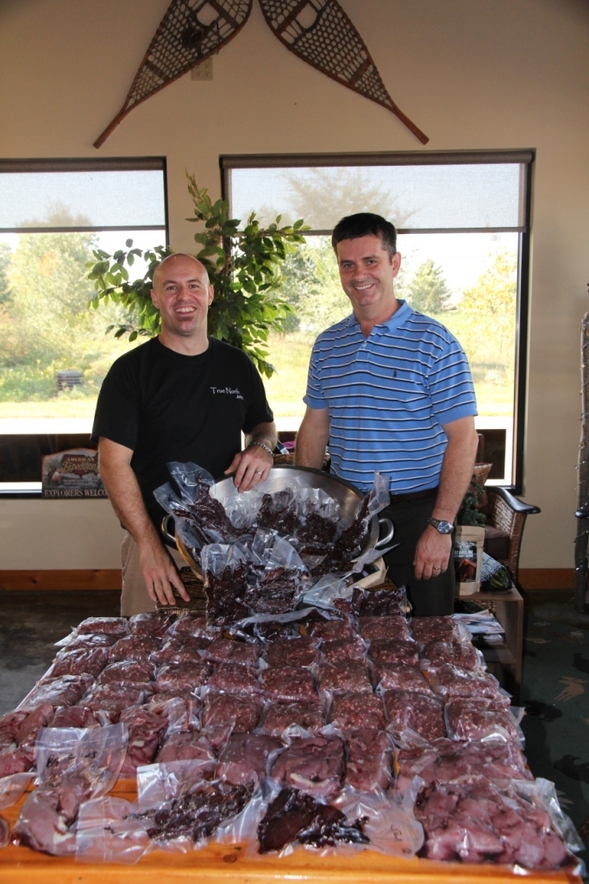 Rick Taylor | Contributor
You'll often hear of the "thrill of the hunt" from successful hunters. They'll talk about a big buck or nice doe coming into shooting range and then making a great shot resulting in a nice harvest.
Some people find the word "harvest" offensive because it hides the true intention of what a hunter has actually done. Of course, that would be taking the life of a deer, or killing it, to be more specific.
The focus of non-hunters typically focuses on this aspect of hunting — the killing part. They see a beautiful creature in the woods, and then they see the death of that animal. It's a visceral and frustrating thing for some people to wrap their head around. Why shoot that deer when you can go to the grocery store and get your own organic-fed meat?
I can easily speak for the vast majority of hunters when answering the above mentioned question. What could possibly be more organic than wild game?
I know for an absolute fact that white tail deer, elk, rabbit and bear forage for their food by eating natural vegetation. It's that simple. More importantly, hunters don't talk about how much meat they put in the freezer; they have no reason to discuss it.
I, however, hope to open the eyes of the non-hunting public by showing you how much meat can be attained from hunting.
Cows, pigs, chicken and turkeys are fed a multitude of chemicals to make them grow faster so they can be slaughtered quicker for human consumption. The organic meats available at the grocery store are few and far between. Even more insulting are the absurd prices they're asking for their meat.
I shot a buck and a doe last week while bow hunting in Dexter; I'll leave the hunting description out of the story for today. I'd like you to focus on the meat I harvested from this hunt, so here we go.
I received the following:
36 pounds of lean venison burger ($3.59 per pound at grocery store)
25 pounds of jerky ($8 per pack average)
10 pounds of stew meat ($4.49 per pound at grocery store)
16 pounds of tenderloin and back straps ($14.99 per pound at grocery store)
12 pounds of roast meat ($4.39 per pound at grocery store)
The final cost to purchase meat from the grocery store that doesn't include "organic" meat? $667!
Hunters don't typically talk about their groceries because it's such a "no brainer" to eat what you kill. Besides, the hunting story is much more exciting than the look on your face picking up your own meat from the butcher.
Some of you may be saying, "Oh sure you saved money, but how much did you spend up front before shooting your prey?" This answer is simple. I spend $15 per deer license which comes to a total of $30. I then spent $80 for butcher fees and an additional $120 for the venison jerky processing. My total cost for everything is $230 which puts my cost per pound of meat at $2.32 after expenses.
In all fairness, there are other costs as well. They include the cost of arrows; bow itself, hunting clothes and broad heads. The total investment for those items fall into the range of about $900.
However, my bow has killed many, many deer over the last five years, and my arrows are reused about 70 percent of the time, because they go completely through the deer. I'm sure there's an accountant who could perform a depreciation schedule on my equipment over 10 years, if so inclined.
The point is simple, no pun intended. Killing your own game is not only very healthy for you but also a huge cost savings over the grocery store as well.
I'll be elk hunting in Wyoming on Oct. 15, and I look forward to writing about it. Please tell me about your exciting hunting stories this year, and the winner will be featured in one of my future columns.
Sadly, I heard of a hunter who sustained a devastating injury last week in the Chelsea area. My thoughts and prayers are with this person and their family.
Your story ideas and comments are warmly welcomed. Rick can be reached at 734-223-5656 (cell) or by email at rtaylor@reinhartrealtors.com.