Posted on
Tue, Jan 3, 2012 : 10:29 a.m.
One last doe bagged during bowhunting season provides enough meat to last through the winter
By Rick Taylor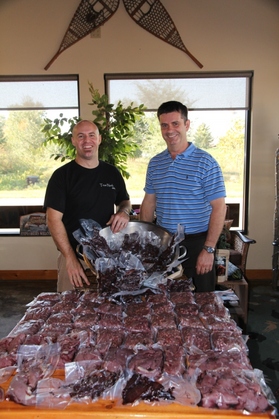 Photo courtesy of Rick Taylor family
The lack of meat in the freezer is a stark reminder that the venison is almost gone and it's time to get more. The problem isn't that I'm going to bow hunt; rather it's hunting in an area where the deer haven't turned nocturnal.
Bowhunting for deer during the late season can be described as foolhardy or a simple waste of time. But, I'm a true believer that low hunting pressure can and will yield results on the right property.
Tom and Michelle Richardson are both professional colleagues and friends of mine. They also live in an area that has an incredibly high density of deer in their area.
Tom and Michelle gave me permission to bow hunt for deer on their property last fall, and its been wonderful to see the abundance (perhaps over abundance) of deer. My tree stand is located a mere 80 yards from Tom's house, and the tree I'm hunting from is three feet off the neighbor's property line.
So, why bring this up you might ask? I can't begin to tell you how many times I've had deer walk right past my tree stand, only five feet from my tree — but, they were on the neighbor's side of the fence, and I couldn't shoot them.
Did I say "couldn't" shoot them? Of course I could have shot them, and there's a fairly good probability that I could have gotten away with it. But I'd be breaking the law.
Furthermore, we as hunters are ambassadors to the non-hunting public, and it's our duty to respect property land boundaries for everyone; not only when its convenient for us.
There were many, many times when eight to 10 deer walked in a slow progression past my stand within easy shooting distance, but I went home empty handed because they were on the wrong side of the fence.
My 14-month-old daughter woke up at 6 a.m. on Dec. 30, and my wife got up before I did. I lay in bed wondering if I should try to get back to sleep or head out hunting. Well, need I say more?
I pulled into Tom's driveway and slowly got my bow and arrows out of my Grand Cherokee. There wasn't a hint of wind, and the snow was crunchy as I made my way to the tree stand.
I watched many squirrels this morning but didn't see a single deer. Could it be that the deer here were turning nocturnal as well? Did I mention that it was bone-chilling cold outside and any movement on my part sounded like a freight train in the woods?
Quite frankly, I didn't know if I could get a shot off should the opportunity present itself.
It was about 8 a.m. when I heard the sound of a dog barking; I looked over to my right and saw a dog making its way down the driveway toward the road. About a minute later, I was startled by the thunderous sounds coming my way through the dreaded neighboring property.
I quickly stood up and peeked around the tree; I saw five deer walking in my direction. Some deer slowly walked out of range, but one doe was making a beeline right for me. I didn't dare move or make a sound as the doe got closer and closer. Finally, the doe approached the fence and just stood there for a minute.
"Please, please, please," I said to myself, hoping the deer would jump the fence and become fair game. It did!
I quickly and very quietly turned around, grabbed my bow and went into full draw as fast as possible. The doe was already 20 yards past me when I whistled to stop her so I could get a clean and ethical shot.
She stopped at a quartering away angle, and I pulled the trigger. The arrow flew true and dropped the doe in her tracks. That all-too-familiar flood of emotion came over me, and I watched the other deer scatter. I stood there a bit longer before making my way down the tree.
My deer hunting season was finally over, and I'm so grateful to have more meat to last us through the winter months.
I was recently told by Michelle Richardson that she, her daughter and boyfriend who were visiting from Phoenix just happened to be home that morning while I was bow hunting. She informed me that they watched the entire hunt unfold. It was then that Michelle told her daughter's boyfriend, "Welcome to Michigan!" I couldn't have said it any better.
I recently asked Tom and Michelle if they still approved of my bow hunting their property? Michelle quickly answered my question by saying "I'd rather see you get something from the deer than to see them suffer through the harsh winters like last year and years past."
Both Tom and Michelle know the deer numbers are ridiculous in the Ann Arbor area and need to be reduced. Hunters like me are more than happy to makes those wishes come true.
So, if you have high deer numbers and don't know what to do, then consider giving me a call prior to the 2012 deer hunting season.
Happy New Year!
Your comments and story ideas are warmly welcomed. Rick Taylor can be reached at 734-223-5656 or by email at rtaylor@reinhartrealtors.com.