Posted on
Mon, Feb 4, 2013 : 10:05 a.m.
Emotions run high in the big debate over deer hunting in Barton Hills
By Rick Taylor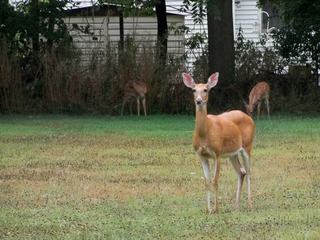 AnnArbor.com file photo
The
recent hiring of sharp shooters
by the Village of
Barton Hills
to kill whitetail deer has certainly stirred up quite a bit of controversy. Of course, it's not surprising when one thinks of the locale.
Unfortunately, there's a huge disconnect between those that reside in the Ann Arbor area and the rest of the State of Michigan. Simply stated, many Ann Arbor residents don't like hunting, while the rest of the state does. As a matter of fact, Michigan has more than 700,000 hunters, making it rank as one of the top three hunting states in the country.
Many local residents don't know this, and I think this is a large part of the disconnect. I've read many comments from a recent article that was posted on annarbor.com, and I think its fair to say that many local residents were not in favor of the culling.
Many comments had words like murder, slaughter and innocent victims to describe the killing of these whitetail deer. I used to say the same things before I began hunting at the age of 24 while attending Northern Michigan University.
I hated hunters! I didn't know any. but I hated all of them no matter what the "excuse" was to killing an animal that did nothing to the hunter. Sadly, the deer that was strapped to the top of a car or thrown in the bed of a pick up truck was simply at the wrong place at the wrong time. Moreover, I'd glare at the hunter while I drove past him and he'd just give me a blank stare back my way. Oh, it pissed me off.
I grew up in a family that didn't hunt, and I had this visceral hate for hunters. I'd tell anyone who'd listen that hunters didn't have to kill wild animals, that there was plenty of food at the grocery store. I'd say hunters were uneducated and killed for the sport of it. Unfortunately, I had no idea what I was talking about, and I allowed my ignorance to guide my belief system.
One of my roommates at NMU had me try venison, and that's how I began my introduction into hunting.
I've been a hunter for 20 years now, and I've learned a great deal about the natural world. I've learned the natural world is beautiful and serene, but it's also unforgiving, unfair, stunning, miserable, and merciless. I've seen coyotes attack newborn fawns for breakfast while the mother doe could only watch. I've seen bucks fight and mortality wound each other.
Last fall I witnessed the fatal effects of EHD killing thousands of deer in the State of Michigan, a clear number still hasn't been determined by the DNR.
My point is this; nature in all its beauty is uncaring. Nature does what it does to survive and that's it. If hunters or sharp shooters don't kill these deer then your car will, or disease will, or predators will. Some deer will live longer lives without hunters around. But, many more will live a healthier life with us around. Try to wrap your head around that one.
It's all about "carrying capacity." If you don't know what this means then please learn. Carrying Capacity is roughly defined as a maximum number of a given species in a given area.
For example, an acre of land with a food source, water and cover can support a given number of deer. Sooner or later, the population outgrows itself and there isn't enough food, water or cover and problems arise. This isn't hunting propaganda — this is science. Too many deer in an area usually leads to disease like Bovine TB, EHD and Chronic Wasting Disease. All three diseases have killed tens of thousands of deer in Michigan in the last year alone due to over population.
Some of our local residents just can't come to grips with the fact that "we" are predators too. It is innately in our blood and our genes to hunt; whether it's a deer, a squirrel or a fish. That primal urge to hunt doesn't mean we're ignorant as a species, yet we're accused of being ignorant all the time.
The truth is, we're honest about where our food comes from and can deal with the fact that we can kill it ourselves without having to go to the grocery store. I will never understand the mindset of a person who hates a hunter but will gladly purchase meat from the grocery store. I kill my food … you hire someone to kill yours.
I've hunted near Barton Hills for years with bow and arrow in hand, and I can tell anyone reading this article that many of the deer are malnourished, emaciated and pretty unhealthy overall. I'm not saying all deer in Barton Hills are unhealthy. But, to deny some deer that inhabit Barton Hills look unhealthy is intellectually dishonest.
My biggest gripe in hiring sharp shooters to kill deer in Barton Hills is the cost to the taxpayers. Some cities, villages and townships throughout the State of Michigan do things differently. Approved hunters are chosen from an "approved" list created by local law enforcement/elected officials, criminal background checks are made, etc.… The cost is free to the town, and the meat is donated to the hungry.
But, I understand that a city, township or village wouldn't want to take any chances with a mishap.
Well, that's my two cents worth on the matter.
Rick Taylor warmly welcomes your comments and story ideas. Feel free to email him at rtaylor@reinhartrealtors.com.