Posted on
Thu, Mar 3, 2011 : 5:03 p.m.
The Power of One: Carolyn King, first girl Little Leaguer
By Kimberli Cumming
Photo by Emily Tishhouse of Emily Kay Photography
Our Power of One series continues this week with Carolyn King, producer of the documentary "The Girl In Centerfield". King is currently traveling the country, promoting the film.
The Power of One series is inspired by the work of activist attorney and Ann Arbor legend Jean King. King's tireless efforts to enforce Title IX led to gender equity in athletics, academics and in the professional world. King will be honored at a celebration of her life's work on March 26 at the Ann Arbor Marriott Ypsilanti at Eagle Crest.
How has Jean King's work impacted your current professional success?
Jean L. King's constant and tireless support of Title IX was one of the main reasons why Williamsport, Penn. (the National Little League Headquarters) caved, and changed its No Girls Policy, thus allowing girls all over the world to play Little League Baseball.
Tell us about your athletic background.
In 1973, I was the first girl in the Nation to play Little League Baseball, when I was 12 years old, in Ypsilanti. Since then, I have played organized softball, tennis, golf and volleyball. I was actually picked up to play softball this past summer at 50 years old!
What difference do I think one person can make in the world?
I believe that one person can change the fate of the world. Whether it is for the better or worse, one person can make all the difference. One person can offer hope for someone else. And sometimes all it takes is the hope that things can be better for real change to occur. It a rippling effect. Each time someone is helped, the hope is passed on.
What advice do you have for someone who wants to achieve success in your chosen vocation?
Find your passion, whatever it is. Once you're doing something you're passionate about, not only do you feel fulfilled, you'll find the core reason for happiness. Volunteer. Get involved.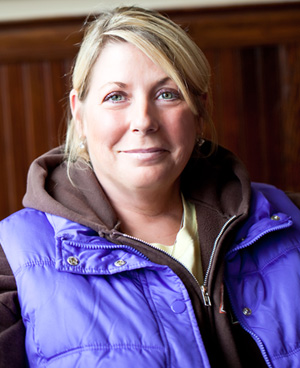 Photo by Emily Tishhouse of Emily Kay Photography
<em>Kimberli Cumming is executive director of <a href="http://www.womenscentersemi.org">The Women's Center of Southeastern Michigan</a>. The Women's Center is a major human service provider in the Washtenaw County area, providing direct services to over 500 women and girls (and some men) annually. Reach Kim at kim@womenscentersemi.org.</em>