Posted on
Thu, Feb 18, 2010 : 1:44 p.m.
'Vertical Speech' African American art exhibit at Kerrytown Concert House
By Frances Kai-Hwa Wang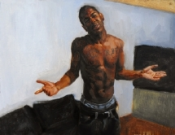 In honor of African American History Month, there is a wonderful African American art exhibit up at
Kerrytown Concert House
called "
Vertical Speech
." Curated by Darnell Ishmel, the exhibition features the work of local and international African American artists
Alonzo Edwards
,
Christopher Batten
, Malcolm Rowry, Marcus Wilson,
Mario Moore
and Rod Gailes. This is a great opportunity to see and better understand the African American experience through the eyes of the community's own artists.

Darnell Ishmel emails:

"Why buy Black Art? Seven reasons why...
(1) Investment in community
(2) Preserve cultural legacy
(3) Support local African American artist
(4) Contribute to a worthy cause will make a difference
(5) 'Black IS beautiful'
(6) February only comes once a year
(7) If you don't....who will?"
A portion of the art sales will go to establish the Pascal J. Hall Memorial Scholarship Fund, which was set up to honor Pascal J. Hall, 1998 Willow Run High School salutatorian, 2002 University of Michigan Engineering graduate, and Alpha Phi Alpha Fraternity member. A Sergeant in the U.S. Marine Corps, he served two tours of duty in Iraq, and he had just completed training for the U.S. Secret Service when he was struck and killed by a motorist. Awards from the fund will be used to support the recruitment, retention, and matriculation of future Alpha Phi Alpha fraternity members, underrepresented university underclassmen and eligible high school seniors.
The exhibit opened with a benefit concert on Feb. 10 featuring a mixed media recital by Darnell Ishmel and Byron Sean celebrating the history of African American baritones, live art creation by Christopher Batten, a portrait unveiling of "Pascal" by Marcus Wilson and a step presentation by the Epsilon Chapter of Alpha Phi Alpha Fraternity. The exhibit runs through March 2.
Kerrytown Concert House is located at 415 N. Forth Ave., Ann Arbor.
Frances Kai-Hwa Wang is a second-generation Chinese American from California who now divides her time between Ann Arbor and the Big Island of Hawaii. She is editor of IMDiversity.com Asian American Village, lead multicultural contributor for AnnArbor.com, and a contributor for New America Media's Ethnoblog. She is a popular speaker on Asian Pacific American and multicultural issues. Check out her Web site at franceskaihwawang.com, her blog at franceskaihwawang.blogspot.com or reach her at fkwang888@gmail.com.