Posted on
Sat, Oct 2, 2010 : 9:02 a.m.
A dog food nutritional bar?
By Lorrie Shaw
One of the fastest growing sectors of the pet industry is undoubtedly pet food - particularly the area of natural pet food. As with humans, the correlation of "you are what you eat" has become a mantra with pet owners and the choices that they make for their furry friends.
One company has decided to take the concept of pet health food to the next level by offering consumers one particularly "convenient" choice to augment their dogs' diet: dog nutritional bars.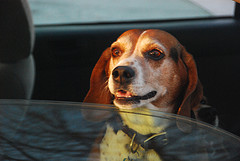 flickr photo courtesy of Let Ideas Compete
All American Pet Brands, in a press release dated September 28, is hoping that the mindset of many of today's "too-busy-must-have-it-now-on-the-go-challenged-consumers" will translate into increased sales of their Grrr-nola Dog Food Bar. Targeting the product in the drug store and convenience store marketplace is the company's strategy.
The super premium dog nutritional bars, a full 8 ounce meal serving in a 4 ounce bar, is aimed toward the dog "on the go." The serving suggestion is as a whole meal or in increments as a snack.
Dogs "on the go"? Are you kidding?
Another product, called Bow Wow Breakfast - labeled as "the first breakfast food for dogs," is also marketed by All American Pet Brands.
Huh? Breakfast food for dogs?
From the company website it states:
"Two ingredients in All American Pet Brands that are not found in most brands of dog food, that can help dogs reduce the risk and effects of heart disease. These include: Taurine and L-Carnitine."
That's true.
Taurine and L-Carnitine, both amino acids, are in fact, necessary for proper heart function. They are derived from meat. If your dogs' food contains meat and is nutritionally complete, you're in good shape - no need to supplement.
The two amino acids are used in treating heart disease in dogs, under a veterinary doctor's supervision of course.
My advice? The nutritional bars would probably be a great addition to an emergency preparedness kit you put together for your pet to make it through a disaster, like a tornado. But, as far as regular dietary needs go, why not stick to your dogs' usual balanced food and let them fully enjoy a meal? You could use the money instead to buy some cool, new dog toys they'll have fun with.

Lorrie Shaw is owner of Professional Pet Sitting and a pet blogger on More Than Four Walls. She is also a regular pets contributor on annarbor.com where she muses on topics ranging from social issues, health and behavior. She enjoys taking time each day to share mealtime with her family, and pets close at hand. Reach her via e-mail and follow her on Twitter @psa2