Posted on
Fri, Oct 5, 2012 : 5 p.m.
Local emergency vet details top reasons for visits to animal hospitals - and how to avoid them
By Lorrie Shaw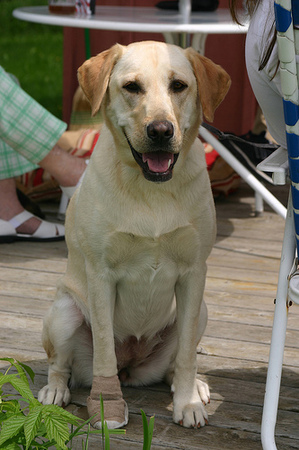 flickr photo by redjar
I've made no bones about the fact that for a lot of reasons,
it can
be a challenge for pets to live in our very-human world
, and the everyday situations that we put them in: living alongside us in homes, being present at public events and settings and even traveling.
Most of the time, there are no problems, but medical emergencies with animals do occur, and, as one who works with pets of all kinds every day, I can attest that many of them are preventable.
That got me thinking: "What are the top reasons that a pet owner finds it necessary to have their companion animal seen by staff at an emergency veterinary facility?"
As Marcia Backstrom, DVM, an emergency veterinarian on staff at BluePearl Veterinary Partners in Ann Arbor details, there are a handful of common reasons that she sees pets, but they can stem from various causes — and most are preventable.
Gastrointestinal upset/poisoning
Usually characterized by vomiting and diarrhea, "GI upset" as it's referred to, is the most common reason for an emergency vet visit at the facility, formerly known as the Animal Emergency Clinic of Washtenaw County.
As Backstrom says that almost always, ingesting something that is disagreeable — or even toxic — is behind it.
"We get plenty of cases of dogs that come in after they've eaten things like chocolate, 'people food', things like that."
The latter case may not seem like a big deal, but there are a lot of foods that can be toxic to a specific species. In dogs, things like grapes and macadamia nuts can kill a dog. And as for chocolate, dogs are sensitive to methylxanthine — a component of chocolate — which has a caffeine-like effect.
Backstrom continues, "We get an uptick of poisoning cases that come in during the holidays. Lilies are a popular plant during Easter, and those are toxic to cats, causing renal failure. Around Thanksgiving and Christmas, we see a lot of cases of pets who have ingested raw bread dough — and that can be deadly." Also, xylitol, a sugar substitute found in sugarless gums, candies and other sweet treats poses a special threat to dogs: it's absorbed rapidly into their bloodstream, where it stimulates the release of a large amount of insulin, which in turn causes extreme hypoglycemia (low blood sugar), which can lead to liver failure and even death.
As detailed here on AnnArbor.com, chemicals used in and around the home also pose a risk to pets. Whether they are products used on the lawn or in the garage or cleaning supplies, personal care products, they can make pets sick or kill them if ingested.
There are no shortage of cases of pets wolfing down things like socks and other articles of clothing, either. These items can cause an intestinal blockage and yes, death.
Backstrom emphasizes that all of these situations can be avoided quite easily.
"Keeping pets from accessing these foods, chemicals and objects is the key."
Lock things up, keep them out of reach and especially with dogs, crating them is a great way to keep them safe and in the end, giving their humans peace of mind.
If a situation like this does happen, Backstrom says that once you realize that a pet has ingested something or if there are signs of trouble, to act fast. That can mean calling a veterinary poison control center to get the ball rolling, and to let them know what emergency facility that you are taking the animal to. That way, a veterinary toxicologist can communicate with doctors there.
Bite wounds
Pets who have been bitten by another pet or a wild animal also rank at the top of the list.
With dogs, Backstrom indicates that many bite cases that come in occur at home between housemates, where resource guarding issues flare up, and in social situations involving non-familial dogs, like dog parks. Read more on dog parks by clicking here.
In the former, feeding pets on opposite sides of the room can help avoid the conflict that leads to getting into a tiff over food.
Cats often become injured fighting with other members of their species if they've been outdoors, resulting in a bite that needs immediate attention.
"In the case of bites from wild animals, making sure that your pet is supervised while they are outside is always a good idea so that situation can be avoided," says Backstrom.
She adds, "Giving your pet a good once-over daily while you're petting them is wise to locate any suspicious areas or wounds on them that might otherwise go unnoticed initially."
No matter if it's a wild animal or a situation involving another dog or cat, the doctor notes vaccinations are crucial.
"Rabies vaccinations are especially important."
The facility is available to deal with veterinary emergencies 24/7, and Backstrom emphasizes that if you aren't sure if an issue you have on your hands is an emergency, there's no problem with calling BluePearl Veterinary Partners to talk to the staff to give the details and ask.
"It's not unusual for a pet owner to be unsure about a situation," and there are instances where things can be dealt with at home, Backstrom said. Click here to read more on preparing and dealing with medical emergencies with pets.
Lorrie Shaw leads the pets section for AnnArbor.com and owner of Professional Pet Sitting. Shoot her an email, contact her at 734-904-7279 or follow her adventures on Twitter.