Posted on
Fri, Mar 11, 2011 : 4:45 p.m.
Area veterinarian uses Pulsed Signal Therapy to offer relief from chronic disease
By Lorrie Shaw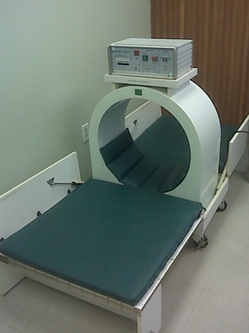 Lorrie Shaw | Contributor
Companion animals suffer injuries and arthritis just as humans do, and while the choices in pain medications — typically
NSAIDS
— are growing in veterinary medicine, some pets may not be able to take medication,
surgery
may not be an option or their owners may prefer a different therapeutic approach.
One treatment option that pet owners have at their disposal now is one that you might not have heard of — a non-invasive approach called Pulsed Signal Therapy. PST, as it's referred to, consists of pulsed electromagnetic signals being transmitted into the joint. These signals mimic the normal healthy physiological signals to facilitate cell repair, stimulating the existing cartilage and other damaged structures to repair themselves.

Dr. Mary Cardeccia, DVM, CVA, CVFT, CCRT, owner of Animal Rehabilitation Facility, went into more detail about the treatment and what conditions it can be used for successfully, as her practice has the only PST unit in Michigan.
"The goal of using Pulsed Signal Therapy is to provide long-term relief of things like chronic disease like arthritis and is a non-surgical/no medication alternative for musculoskeletal injuries, non-healing wounds, slow-healing fractures," noted Cardeccia when I met up with her at the facility in Dexter.

Because our companion animals are living longer and do experience chronic problems related to their mobility, I was intrigued.
Treating a patient using PST is relatively easy and is painless. The pet, which can range from a dog or cat to a bunny, ferret or guinea pig, is positioned inside the unit, which bears a resemblance to a miniature, open MRI machine. Owners can safely sit next to their pet during the process.
To get maximum benefit, recommended treatments are scheduled in a series of nine and last 30 minutes each. Sessions can be scheduled only hours apart, up to three times per day.
Because time restraints can be difficult for pet owners to manage, Cardeccia plans to offer drop-off service so that pets can be left to get consecutive treatments during the day while their owners are at work.
Other conditions for which this approach can be helpful are slow-healing fractures, soft-tissue injuries and Osteochondrosis (OCD) of the shoulder — a problem that commonly affects large and giant-breed canines.
Cardeccia cautions, "PST is not recommended for patients who have cancer, as the unit stimulates cells," adding that further cell stimulation isn't something that you want with cancer.
"In some cases, we can isolate the area being treated, but an initial dialogue between the pet owner and doctor is a must if this avenue is pursued to weigh the pros and cons."
There are no side effects with PST.
Aside from adding the PST unit to her practice, Cardeccia has reconfigured a few things, like moving the water treadmill into the area that houses an 11- by 16-foot pool to make better use of space, and opening up the administrative area a bit. Because five or six new patients typically get referred to Cardeccia for treatment each week, this was a must. Cardeccia also offers acupuncture and Reiki on site and designs rehabilitation regimens for animals to perform at the facility and at home. Read more on that here.
For more information on Pulsed Signal Therapy, click here.
Dr.Cardeccia received her DVM from Michigan State University in 1995 and shifted the focus of her practice to complementary veterinary medicine nearly six years ago. Animal Rehabilitation Facility is located at 7275 Joy Road in Dexter. She can be reached at 734-417-4290.
Lorrie Shaw is lead pets blogger for AnnArbor.com and has previously written about pet health. Follow her daily adventures on Twitter @psa2 as a professional pet sitter and dog walker. She welcomes your contact via email.