Posted on
Tue, Aug 28, 2012 : 6 a.m.
National animal health organization scorns raw diets for pets, much to the dismay of many advocates
By Lorrie Shaw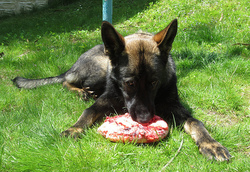 laura271GSD1
Raw diets for companion animals have been a hot topic in recent years, and it's not surprising: There's a greater level of awareness of the overall wellness of our pets, and when you think of it, diet is a key to achieving optimal health.
But, there is a lot of dissent when it comes to feeding raw, and a leading animal health organization has weighed in on their stance on doing so when it comes to cats and dogs.
The American Veterinary Medical Association (AVMA) made their opinion on going raw known a few weeks ago, and it has not only to do with the animals, but the people that share their lives, since the pathogen can be passed easily from animal to human.
It's no secret that when it comes to human-grade food (meat and fruits/vegetables alike), pathogens like Salmonella can pose a problem — and it has been the source for several recalls in pet food. It does not discriminate.
A policy passed by the organization (it's important to remember that this is not a federal mandate) discourages the feeding of raw diets to pets.
The AVMA says that cooking and pasteurization are the "traditional" methods for eliminating pathogens (like Salmonella and E.coli) and that others like irradiation are "being developed and implemented."
Supporters of raw diets made their positions known, and Matthew Koss, President of Primal Pet Foods was one of them.
"Primal implements a stringent testing program to ensure that all of our products are pathogen free prior to being distributed for sale in the marketplace," Koss said.
"Primal Pet Foods adheres to all FDA standards for the manufacturing and marketing of pet food products, and we will continue to maintain our quality and safety standards with the goal of providing quality pet nutrition for dogs and cats."
(It should be noted that Primal was at the center of a recall in May of 2011 because of Salmonella.)
The policy doesn't forbid veterinarians that are AVMA members from recommending a raw diet to pet owners.
I've broached the topic of feeding raw and my experience with it.
Knowing that there are plenty of readers out there who are on both sides of the fence, we're interested in hearing your voices on the topic. Tell us if you feed a raw diet by taking the poll, and tell us more about your experience with your valued comments.
Also, click here to read more about the AVMA's stance on raw diets.
Lorrie Shaw is lead pets blogger for AnnArbor.com, where she writes on all aspects of pet care and culture, and is and owner of Professional Pet Sitting. Shoot her an email, contact her at 734-904-7279 or follow her adventures on Twitter.