Posted on
Thu, May 31, 2012 : 5:36 a.m.
Local vet helps clarify risks, protocols of Salmonella illness after FDA confirms that second Diamond pet food plant is being investigated
By Lorrie Shaw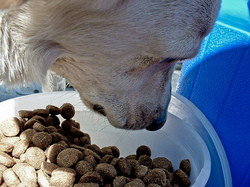 flickr photo by ex_magician
Since early April, you've read about several pet food formulas that have been included in the continually-growing recall by
Diamond Pet Foods
because of
Salmonella
contamination. The recall has been expanded eight times and has affected formulas designed for puppies,
dogs
and
cats
.
Since last Tuesday, I've been contacted by worried pet owners from across the country wondering what pet foods are safe and just how far this oversight will reach.
One woman indicated to me that she believed that her dog was sickened by eating a formula that was on the recall list. The dog — who was a senior — had to be euthanized because of complications from what was diagnosed as an unidentified bacterial infection in the gut.
The confusion from consumers is understandable, considering the breadth of the problem and the uncharacteristic way that this vast recall has been handled by the company.
In writing about recalls in the past, I know that companies have been quick to update their websites with specific information (formula names and UPC and 'best by' codes) and to work with the Food and Drug Administration to get the information out to consumers.
Diamond's issued recall during the week of April 24 was a bit obscure and incomplete at best, so I felt it prudent to call the company's established pet food recall number (of course during normal business hours).
I found it puzzling to hear a recorded message indicating that the office was closed and to call during business hours and, in the meantime, please go to their website for more information.
The information was updated on their website later that evening and not long after, several more formulas that the pet food manufacturer makes for other companies were added to the list; so many so, that Diamond created a separate website just for the recall. All of the pet food formulas involved in the batch of recalls are related to "possible" contamination of one strain of bacteria, Salmonella infantis.
Several people, 15 to date across North America, have been reported to have become sick from handling the affected pet food, though the numbers of pets affected is a bit sketchy.
On May 16, we reported that the FDA had released its findings of an investigation into one Diamond facility — located in Gaston, S.C. - where the affected product was produced.
Several updates later, including one that was reported here on May 23, it doesn't seem that there is an end in sight.
On May 29, the FDA confirmed that they have launched an investigation into second Diamond Pet Foods plant — this one in Meta, Miss. — after it was discovered that it had been contaminated by the bacteria as well. There is one difference, however: The contamination at the Missouri plant comes from Salmonella Liverpool, a different strain than that found at the South Carolina plant.
The company has a third plant in Lathrop, Calif.
Are more recalls on the horizon? That remains to be seen, but one important aspect of all of this is for pet owners to be armed with solid knowledge when it comes to their pet's food, and to understand aspects of the illness itself.
Dr. Crystal Eberly, owner of Washtenaw Veterinary Hospital in Ann Arbor offers more clarification on the illness and why it can be such a concern.
"Like humans, young dogs and cats are more susceptible to fatality because of extreme concerns with dehydration and undernourishment," says Eberly, who along with her DVM has a bachelor's degree in animal nutrition.
Though when seen separately on occasion they may not seem to be cause for concern, symptoms including vomiting, lack of appetite and diarrhea are consistent with Salmonella infection. A dog or cat who exhibits more than one or any combination of them needs to be seen by a clinician immediately.
Blood in the stool can be present as well.
Eberly clarifies how and why veterinarians pursue testing for Salmonella.
"With those symptoms, or with "recall concerns I would do a good physical exam, CBC/organ blood profiles looking for elevated white blood cell parameters or anemia and a fecal occult test for any parasitic concerns and a PCR test that would include screening for salmonella."
The PCR, or polymerase chain reaction test is run on a stool sample and indicates that the DNA of the Salmonella organism is present.
Healthy dogs can shed salmonella for up to 6 weeks once exposed, so Eberly says that she does fecal cultures as well, even on the patients without clinical sign but have been on recalled food.
Eberly says that if a confirmed case of Salmonella with a pet on a recalled diet, she does contact the FDA and make a report — and usually has the pet owners file a complaint with the food company simultaneously. (By clicking here, you can read about the process of a pet food recall and how consumers can be integral in alerting the FDA to a safety issue.)
"Salmonella is a bacteria that is consumed and then attaches itself to the lining of the small intestine. The bacteria secrete toxins that can cause severe cases of diarrhea. These bacteria can also travel through the damaged intestine and infect the body systemically which is obviously a much more serious concern."
That's one reason why young pets, seniors, or those with compromised immune systems are also at higher risk.
"Treatment depends on results of my fecal cultures, usually antibiotics such as SMZ-TMP, Baytril or Chloramphenicol are effective," notes Eberly.
"The mainstay of treatment is fluid and electrolyte balance therapy, usually requiring aggressive intravenous care."
You've read about proper handling and storage of pet foods and sanitizing protocols here on the pets section, and the FDA and pet food companies always implore consumers to immediately stop feeding your pet any product that has been recalled.
But Eberly makes a helpful point about your dog or cat's food if it ends up on a recall list
"Seal a sample of the diet in a plastic bag in case the company or FDA would like a sample."
The number of pets who have become sickened by the recall is uncertain, but FDA is aware of two dogs from one household in North America that were given a recalled brand and were clinically confirmed as having Salmonella infection.
Click here to read the timeline on the recall and investigation.
Pet owners who are unsure if the Diamond product they purchased is included in the recall, or who would like replacement product or a refund, may contact Diamond Pet Foods via a toll free call at 866-918-8756, Monday through Sunday, 8 a.m.-6 p.m. Visit www.diamondpetrecall.com for more information.
You can count on AnnArbor.com to offer up-to-date information on pet product related recalls. Search our archives of previous recalls here.
Lorrie Shaw leads the pets section for AnnArbor.com and is owner of Professional Pet Sitting. Shoot her an email, contact her at 734-904-7279 or follow her adventures on Twitter.