Posted on
Tue, Jul 31, 2012 : 9:35 a.m.
New stem cell study may yield new option in treating chronic kidney disease in cats
By Lorrie Shaw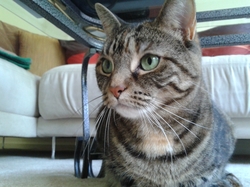 Lorrie Shaw | Contributor
Chronic kidney disease (CKD) is very common in older cats. I've seen many a feline client experience it as the approach their senior years, and a few of those needed to be euthanized because their quality of life had declined so.
If the disease is caught early, it can be managed well — but it can be a challenge to recognize symptoms that are often attributed to other things, and can be as subtle as an increase in visits to the water bowl (and subsequently the litter box) and a decrease in appetite and weight.
Cats in more advanced stages can exhibit things like mouth ulcers and a foul odor from the mouth, among other things.
Sadly, there is no cure. If a cat has been diagnosed with the disease, it's been possible to maintain a good level of comfort using a variety of current therapies, including diet. The latter means a low-salt and low-phosphorus and high potassium prescription diet — which includes canned food, because it contains more water. A good diet and sufficient fluid intake are things that all feline renal patients need.
There always comes a time, unfortunately, when all of the options that clinicians have at their disposal cease to offer a good quality of life.
The good news is that, with strides made in veterinary medicine, there might be another option on the horizon for some feline patients: Stem cell therapy.
Researchers at Colorado State University, with the funding from Morris Animal Foundation, are currently studying whether stem cell therapy can address late-stage CKD in felines.
Twenty cats are included in the study, and researchers are hopeful that by injecting stem-cells, the secondary effects of CKD can be reduced, while improving renal function.
Stem cell treatment and other cellular technologies are nothing new in the area of veterinary medicine. They've been used to treat other things, like liver disease and arthritis right here in the Ann Arbor area.
But in the past, stem cell research has been heavily geared toward canine and equine species, but since 2009, CSU has been working to change that. Their veterinary school has been a leader in the area of stem cell research in cats, and in 2010 announced the launch of a program devoted to it. Frankie's Fund, as it's called, supports research into how feline stem cells might be used to treat injuries and diseases in that species.
The initial data from the new study is encouraging, but time will tell.
"There's a lot of hype around stem cells right now," says Dr. Stephen Dow, DVM, Ph.D. who is lead researcher on the clinical trial.
"Unfortunately, a lot of the claims are unsubstantiated. We hope to show whether the cells make a difference in cats with CKD."
Several indicators of renal function throughout the treatment period will be monitored, and those findings will be included in a report when the study — which will have two parts — is completed.
"Stem cell therapy is certainly cheaper than a kidney transplant, but it's not something that everyone can afford," Dow notes.
Click here to read more about how the study will be carried out.
Lorrie Shaw leads the pets section for AnnArbor.com. Connect with her on Google +, on Twitter @psa2 or e-mail her directly.