Posted on
Fri, Dec 9, 2011 : 5:59 a.m.
Is a wheelchair right for your dog? One family's experience can help shed light on the issue
By Lorrie Shaw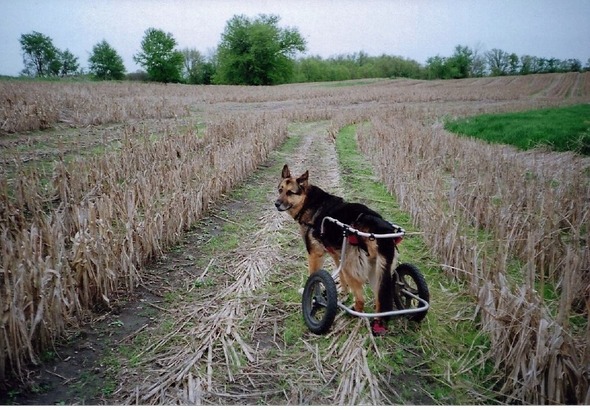 Photo by Susie Jenkins
Peyton Jenkins was no ordinary dog.
An active and hearty canine, Peyton did well at many things through her long life: Search and rescue, for one. She was also a regular in the Christmas parade in Saline and excelled in obedience trials.
Her activity level was, to say the least, vigorous, and it took a lot for her to stay down. Peyton had suffered injuries as a result of her love of being physical. And, as is true with so many dogs, she ended up having a tibial-plateau-leveling osteotomy (TPLO) on one knee after damaging the ligaments, and then later the other knee was damaged the same way.
Later in life, she became somewhat arthritic and developed degenerative myleopathy, the latter causing weakness in her rear limbs over a period of eight to 12 months, eventually leaving her not being able to manage on her own. Mobility was challenging, especially as time wore on — for the dog and her owners.
One of the problems was that, at 90 pounds, the German Shepherd was bigger than other females who share her breed. That made it hard to help her get around for the humans in her life. In talking with one of her proud humans, Susie Jenkins, it's obvious how much of a mark the pooch left on those around her.
"She had such a strong personality," says Jenkins. "She was the one dog that just 'shined.' There won't be another dog like her."
Over that course of months after getting the diagnosis of DM, the Jenkins family sought out therapies that would help Peyton get the most out of her weak limbs, including treatments like hydrotherapy, as well as acupuncture, chiropractic care.
For a time, these modalities worked well to help open up the nerve pathways, enabling Peyton to retain more movement, and a rear sling device was put into use to help the humans in her life in assisting the large dog in getting around physically when it was necessary.
"We were grateful to have pursued those alternative options. They helped our girl be at her best and make the most of what she was able to do," Jenkins says wistfully.
This arrangement worked for a while. Then, at age 10, it became evident that the strong-willed dog was at a crossroads: her rear limbs were just not working at all anymore.
After being seen by a veterinary specialist at an area facility he told the family, "You need to let her go with dignity."
A fair assessment, because most dogs in these situations might be considered good candidates for euthanasia.
But not Peyton, and for three very good reasons: she was strong-willed, otherwise healthy and most importantly, she wasn't experiencing any pain. Weakness was her only hurdle.
Jenkins is just one of many pet owners who have decided to take a route that most people would deem unconventional.
Jenkins knew that other dogs had been able to manage well with the use of wheelchairs and decided to start doing some research to see if that might an option for Peyton. As it turned out, it was.
Photo by Susie Jenkins
Upon finding Dewey's Wheelchairs for Dogs, an Oregon-based company online, Jenkins decided to make a go of it and ordered the custom wheelchair that she hoped would make the difference for Peyton.
It proved to be the right choice.
After an expected bumpy start she quickly got her bearings and figured out how she needed to maneuver — and thrived.
"Peyton dumped the chair two or three times on its side at first, taking her down with it — she tried to turn corners too fast. She figured out in no time how she needed to maneuver to stay upright. Once she realized that she had regained a sense of freedom, she was even more determined."
But the chair wasn't without some limitations. The wintertime snow wasn't a good match for the wheelchair, so Jenkins' husband simply cleared a large enough of an area for Peyton to play, exercise and relieve herself in. Since the family likes to walk together on their extensive property, a path that was easy for the wheel-bound pooch to navigate on was cleared.
Peyton loved to swim, so living near the lake, it was a common activity. After approaching the water, she just needed to be released from her chair and off she went, paddling away wearing her life vest, just like any other dog.
Having the chair was a blessing for the family, and it allowed the strong-willed canine to have a quality of life that was full and happy.
Sadly, nearly three years after getting her wheelchair, Peyton had to be euthanized due to an unrelated medical issue.
After all was said and done, making the decision to try out a wheelchair was the right one, and as the Jenkin's vet, Dr. Caroline Sutton, DVM explains, it can be a great experience for a dog — providing they have the right personality.
Not all dogs have the drive to use a cart.
"There are reasons why a dog might have mobility issues, and paralysis or degenerative diseases like Peyton was experiencing make a canine a good candidate for a wheelchair — but if they are in pain, that really can change things."
Sutton, who founded Ann Arbor's Parkway Animal Clinic in 1990, goes on to say that in recent years, things have changed considerably in the canine wheelchair industry.
"The designs have improved. Despite the way they might appear, the carts aren't painful; the fitting process is much more refined, and the designers measure carefully to ensure maximum comfort and mobility."
Another hurdle that most dogs face when trying out a wheelchair is actually being strapped into one. Peyton, because of her previous experience with being in parades and pulling a cart, felt comfortable when she was harnessed into her wheelchair. It was just a matter of her figuring out how to work it.
Sutton emphasizes that, when considering a wheelchair for your pet, being honest with yourself is important in making that decision.
"We would all like to see pets be able to regain some mobility after losing it. With the options out there, many can go on to have a good quality of life — and that's exciting. Some pets, though, demonstrate that they aren't well-suited to using a wheelchair. Coming to terms with that isn't easy, but it's the reality."
Lorrie Shaw is lead pets blogger for AnnArbor.com. Connect with her on Google+ and follow her daily adventures as a professional pet sitter or email her directly.