Posted on
Mon, May 14, 2012 : 10:22 a.m.
Dogs as mirrors of ourselves: Owner's calm attitude helps reduce anxiety for canines in unfamiliar public situations
By Julia Levitt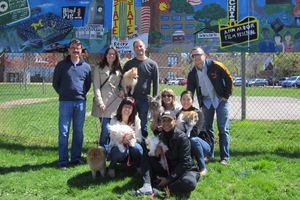 Julia Levitt | Contributor
People come to dog class for many different reasons. During the first class, everyone is nervous, and this strongly affects our dogs.
Dogs don't understand the tension coming from the other end of their leash, but they react to it in a variety of ways. Some dogs bark, some whine from anxiety, while others try to hide. Many dogs have little to no interaction with other dogs and with people — just the folks living in their immediate household. The owner wants to help their dogs but they don't have the tools in their tool box — yet.
From a dog's perspective, being in a new environment — surrounded by dogs and people it has never seen before — is more than just a little challenging.
The first thing we do not do is bend down and "comfort" an anxious dog. What is comforting to us humans is not perceived as comfort to a dog.
Try this experiment: When you are at the vet with your dog- bend down and pet it while it is whining or crying. What happens with the dog's behavior? It escalates — doesn't it? The same is true in class. If the anxious dog can sit quietly at your side the anxiety diminishes. An anxious — excited- nervous, aggressive — dog does not sit or lie down. Why? This is a posture that a dog displays only when it is relaxed.
Annie brought her mixed breed, Heidi, to class. Heidi is fearful and anxious. Annie's response? Jerk and yank on an already fearful dog's leash.
When that didn't work, Annie began scolding Heidi. The level of fear and anxiety was escalating from a mid-level of anxiety to a level 10.
When I approached the dog to take its leash, the dog backed away from me. Yes, this is the response of a fearful dog to a new person. It is also encourages the fearful dog to repeat more of the same behaviors.
What do I mean by more of the same? These are ingrained habits for Heidi. Heidi is not plotting and thinking, "Oh, now I will run away from this human." No. Heidi knows when the human picks up a leash this yanking -pulling and reprimanding occurs.
Dogs are a mirror of ourselves. This situation occurs often in class: I instruct the owner how to behave with their dog. It doesn't work. The frustrated owner says to me, "This is not working." I pick up the leash and it works for me.
I have no magic wand, and I am not putting your dog under hypnosis. What I am doing is demonstrating through non-verbal communication to the dog, "You can be calm? Why? I am calm." Yes, this exercise is very powerful.
When you come to dog class, you bring your fears and hopes and expectations. The dog knows nothing of this, but the dog does reflect what it has learned from you. The dog is only showing what we feel.
Julia Levitt is the founder of In Harmony Dog Training (www.inharmonydogtraining.com) in Ann Arbor. She can be reached at julia@inharmonydogtraining.com or at 734-645-4707. Julia provides individual training for dogs and their owners, and also conducts dog training classes at Ann Arbor Animal Hospital.