Posted on
Wed, Feb 13, 2013 : 8:30 a.m.
Studying the canine skull variances may help researchers understand craniofacial disorders in humans
By Lorrie Shaw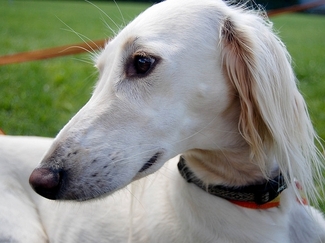 Flickr photo by Vayresa
As enmeshed in our daily lives as
dogs
are, it's easy to see that there are more breeds of dog than ever. Everyone has their preferences when it comes to temperament, size and other characteristics, and that, in large part, has facilitated the cultivation of established and up-and-coming breeds.
One thing is for certain: canines are by far the fastest evolving species on the planet - for better and for worse — thanks to us humans. Most breeds were developed in the last few centuries.
The skull shape and size is likely the most notably variable characteristic, aside from overall size of a dog. Whether it's elongated like in the Saluki or on the other end of the spectrum, brachycephalic as is with the case with English Bulldog, researchers now believe that studying these morphological features can help offer insight into skull development — and even craniofacial disorders in humans.
A recent study published in the journal Genetics indicates that studying this area is worth examining. The study was co-authored by Jeffrey J. Schoenebeck, PhD,and Elaine A. Ostrander, PhD, researchers at the National Human Genome Research Institute.
Since the canine genome was mapped eight years ago, researchers have striven to use the data from it to better understand human health. Because of the pared-down nature of canine genetics, it allows researchers to use that as a model to better understand the complexities of the human genome.
But why zero in on skull shape? It's complex trait, and involves multiple genes and their connections.
"Dogs can serve as a model for skull growth and shape determination, because the genetic conservation between dogs and humans makes it highly likely that craniofacial development is regulated similarly between both species," said Schoenebeck.
Lorrie Shaw leads the pets section for AnnArbor.com and owner of Professional Pet Sitting. Shoot her an email, contact her at 734-904-7279 or follow her adventures on Twitter.