Posted on
Thu, Jan 10, 2013 : 6 a.m.
You can put the treadmill in the basement to use as an exercise tool for your dog
By Julia Levitt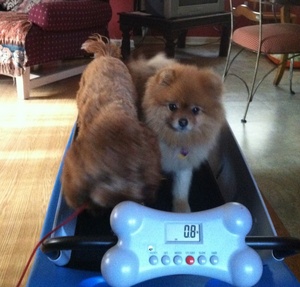 Julia Levitt | Contributor
The first snow — how beautiful! How wintery! How inconvenient for
dog
walking!
This weather is okay for those of you who have Nordic breeds, like Huskies, Malamutes, and Samoyeds. My friend's Newfoundland loves to sleep outside in the snow. This weather is their season.
For those of us who have small breeds, going for a walk in the snow can be challenging. The snow is often too deep for short dogs. Nonetheless, I have found that it is psychologically important for dogs to get outside. This is when a fenced yard is a necessity in Michigan.
After a little romping in the snow in the backyard, what about some real aerobic exercise? No, not for us going to the gym — what about using that treadmill in the basement that hasn't been used in years — for our pooches?
Dogs love the treadmill. It is a steady, rhythmical movement — no worries about slipping or getting salt in their paws.
The most important part of teaching your dog to use the treadmill is.. you! One of my friends told me her dog was afraid of the treadmill and wouldn't use it. When I saw how the dog was being introduced to using a treadmill, I was not surprised.
Like anything else when training a dog, the calm assertive approach works best.
When Anna wanted to teach Fred to exercise on her little used treadmill, she tried pleading with Fred — which was not particularly effective since Fred weighs 90 pounds. Then she tried dragging him to get on the treadmill. Well, she actually had two of her friends drag and push him on the treadmill; he promptly jumped off of when they got him on. Once they got the treadmill started, Fred promptly jumped off again.
Anna found that this was becoming a better workout — for her — than going to the gym. The treadmill then went back to a dark corner of the basement.
When Anna saw my Pomeranian jump on my treadmill and begin to trot along, she asked me to help Fred to walk on her treadmill.
The first thing I did to introduce Fred to the treadmill was have him hop on — with the treadmill not moving. Anna told me she had immediately turned the treadmill speed up and up, but dogs need to get their "sea legs" at a slow speed.
Next we turned the treadmill on to a very slow speed so that Fred could get used to the movement. Fred was very unsure, so I stayed at his side with my hand just touching him for reassurance.
Next, we stopped the movement and I turned Fred around and let him get off the treadmill — after I had given him permission to do so. After a short break, we tried it again. This time Anna was able to slightly increase the speed of the treadmill. At this point the exercise was completed for that session.
By the fourth session we had Fred on the treadmill walking at a brisk pace — for him. The speed is adjusted according to each dog's natural gait.
Important points to remember:
• Never force a dog on the treadmill.
• Never crank up the speed, go away and expect your dog to stay on the treadmill.
• Never let your dog jump off the treadmill whenever it feels like it.
Like any athlete learning a new skill, treadmill training takes a little time and patience, but the rewards for your dog are great. They get a rhythmical and relaxing exercise. And you get to use that treadmill that has been collecting cobwebs. It's a win-win for everyone.
Have fun!
Julia Levitt is the founder of In Harmony Dog Training (www.inharmonydogtraining.com) in Ann Arbor. She can be reached at julia@inharmonydogtraining.com or at 734-645-4707. Julia provides individual training for dogs and their owners, and also conducts dog training classes at Ann Arbor Animal Hospital.