Posted on
Tue, Jan 3, 2012 : 10 p.m.
In keeping pets, are we doing what's best for them - or ourselves?
By Lorrie Shaw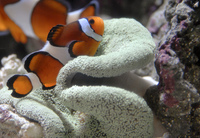 flickr photo by The Busy Brain
The fields of ethology and behavioral ecology are ever-growing, and for so many reasons, that's a great thing.
We've come a long way in understanding animal behavior. In fact, seeing it for what is and comprehending it by way of processing what is actually happening, as opposed to viewing it from a perspective that is in many ways seen as "humanly superior," has been crucial.
Understanding the behavior of an animal clearly is vital because it's interpretation has, through the years, affected their very existence: we have positioned ourselves — willingly or not — as curators of their well-being.
The way that animals are treated and valued as a whole by us, shapes their present, and their future. It also influences their behavior.
What comes to mind when you hear the terms, animal behavior, ethology or behavioral ecology?
Chances are, you think of dogs and cats first, and for obvious reasons. These species not only share a roof with us, but they are meshed so deeply in our lives.
In somewhat less common circles, the same holds true for reptiles and birds kept as pets. Many of these animals are rescued from situations that are less-than-ideal.
Other exotics in captivity, for example, sugar gliders, are at the root of vigorous controversy.
One article written by Douglas Quenqua got me thinking about more broad questions when it comes to ethology and behavioral ecology:
Why do we keep pets, and why do we choose the animals that we do? Why are new species of animals being introduced as a viable choice to keep in captivity? (What motivates humans to keep dogs or rats — or even snakes, perhaps?)
Are we doing enough to cultivate an environment that is optimal for the pets that we keep? (Rather, are we doing what we see as convenient for ourselves or what top-rated cable television series' and the pet product market tells us — or are we doing our utmost for the good for the animal? How ethical are the resources that we have?)
When considering the breeding of animals, what takes precedence? The best interests of a breed? Profit? Have the breeds been curated with mindfulness?
Why do we place a higher value on some animals, and maintain a dismissive stance on others? It is intelligence? Is it because some animals are seen as "pets," while others are considered "food"?
Where is "pet ownership" going?
Quenqua writes about an unlikely species when thinking about behavior and well-being with pets: fish.
The article focuses on a study on the effects of overcrowding done by Ronald G. Oldfield, a professor of biology at Case Western Reserve University.
The findings of the study were not all that surprising, really. After observing Midas cichlids — a species popular amongst those who keep fish as pets — in two separate experiments, Oldfield found that overcrowding in fish tanks causes aggression and guarding of resources.
In one tank, size was kept constant while increasing the number of fish. In the other tank, three fish were placed in consistently larger and more complex tanks.
In the latter case, the ciclids aggression reduced considerably when the fish were placed in a 100-gallon tank with several plants and rocks to form crannies.
The findings confirmed what Oldfield found when observing wild Midas cichlids.
"If you go out and observe these fish swimming in a river, they're not aggressive at all, really."
Oldfield points out that most fish tanks used by hobbyists are puny — one-10th the size of the smallest that he used in the study.
"If people kept dogs in these conditions, they'd be put in prison," Oldfield states.
"It's something we should think about."
Read the original article that cited another study and more information from experts on NYTimes.com by clicking here.
Lorrie Shaw is lead pets blogger on AnnArbor.com and owner of Professional Pet Sitting. Follow her pet adventures on Twitter.