Posted on
Sun, Mar 11, 2012 : 2 p.m.
FDA cautions giving chicken jerky treats to dogs after illnesses mount
By Lorrie Shaw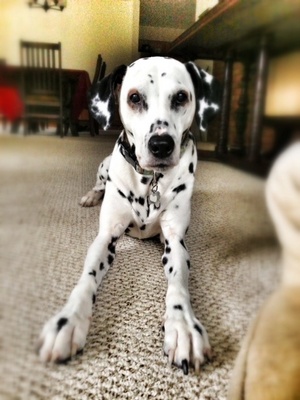 Lorrie Shaw | Contributor
The topic of food safety has gained more public awareness, as has the movement to know where and how the food we eat each day is grown, produced and manufactured.
Because of our changing relationship with the animals with whom we share our lives, a similar movement has taken shape: awareness about the quality of the pet food that we give to our pets.
Are you puzzled by all of the talk about tainted pet food and treats? It can be daunting, and you've every reason to be confused.
Since the extensive 2007 pet food recall, the topic of pet food safety has been on the lips of pet owners, bloggers and pet professionals. There is a lot of information out there, some correct, some not so on-the-money. Having the right information is vital when staying on top of recalls and the like.
Countless pet food recalls since 2007 — that include consumables for cats, dogs, small animals and large animals — have been established, either voluntarily by the manufacturers, pet food companies or, in some cases, the Food and Drug Administration.
It's important to remember that, typically, recalls — no matter who puts them into place — are in no way intended to demonize a company or send them into financial ruin. These recalls are designed to facilitate communication to correct potential problems in a system that typically works pretty well, considering the amount of pet food produced each year.
But, one specific type of pet consumable has been under fire over the past few months: chicken jerky treats from China.
They seem like a straightforward, simple and wholesome enough treat to offer your dog, right? But, the problem isn't the treats themselves — it's where they come from and what might be in them.
In November, 2011, the FDA issued a cautionary update with regard to increase in the number of complaints it received of dog illnesses associated with consumption of chicken jerky products imported from China.
The same thing happened in September of 2007 and December of the following year.
Last July, I reported that the Canadian Veterinary Medical Association alerted the American Medical Veterinary Association to an issue that had a familiar ring: chicken jerky treats manufactured in China were possibly associated with an illness affecting the kidneys of dogs in Canada.
The FDA has received a total of 537 reports of illnesses in canines, including 467 reports since it issued a renewed warning about chicken jerky treats from China in November of 2011. This includes a startling 184 cases submitted so far just this year.
In a website page updated two days ago, an FDA statement said that they continue to investigate the issue and its origin, adding that "some of the illnesses reported may be the result of causes other than eating chicken jerky."
You're probably wondering how pet owners and veterinarians are making the connection with a dog's illness and tainted chicken jerky from China. Symptoms and a close backtracking of what the pets had eaten are excellent clues. Fanconi-like symptoms are often seen. Click here to read more about Fanconi Syndrome.
The signs — which may occur within hours to days of feeding the products — that may be associated with chicken jerky products include:
decreased appetite
decreased activity
vomiting or diarrhea (sometimes with blood)
increased water consumption and/or increased urination
The FDA has been testing and investigating the safety of these imported pet treats, and here's what they indicate what they've been looking for:
Salmonella, metals, furans, pesticides, antibiotics, mycotoxins, rodenticides, nephrotoxins (such as aristolochic acid, maleic acid, paraquat, ethylene glycol, diethylene glycol, toxic hydrocarbons, melamine and related triazines) and were screened for other chemicals and poisonous compounds. DNA verification was conducted on these samples to confirm the presence of poultry in the treats. Samples have also been submitted for nutritional composition (which includes glycerol concentrations), vitamin D excess and enterotoxin analysis. Some samples from recent cases (2011-2012) have been submitted for multiple tests and we are awaiting results. More samples are in the process of being collected for testing.
Tamara Ward, FDA spokeswoman says that so far, FDA officials have found no evidence of harmful levels of melamine or other substances in the chicken jerky treats.
A source for the illnesses that continue to be reported has yet to be discovered.
With so many incidents of illness associated with a popular treat, one might think that simply removing the products or blocking the importation of these consumables would be a solution.
A simple fact remains: The current regulations that are in place don't allow for products to be blocked or removed based on complaints alone.
The FDA's hands are tied until a definitive cause is found.
To err on the side of caution, I have been urging my clients and the public-at-large the following, from the FDA website:
Currently, FDA continues to urge pet owners to use caution with regard to chicken jerky products.
As always, you can stay up-to-date on all pet-related consumable recalls here on the AnnArbor.com pets section. You can learn about how pet owners and veterinarians are a part of pet treat and food recalls by clicking here.
Lorrie Shaw leads the pets section for AnnArbor.com. Catch her daily dog walking and pet sitting adventures or email her directly and subscribe to AnnArbor.com's email newsletters.