Posted on
Tue, Oct 16, 2012 : noon
U-M Investing in Ability Week aims to educate the public about service dogs, more
By Lorrie Shaw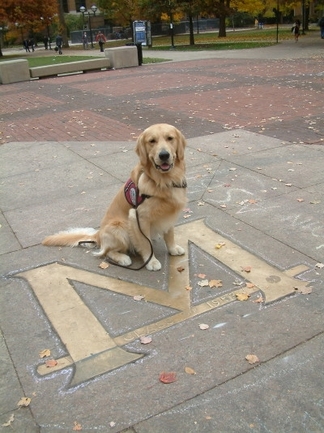 Photo by Paws With a Cause
The bond between humans and animals has evolved over a long period, and, for many people, companion animals like dogs or cats — or other species like horses — are a huge part of our everyday lives.
For some people, companion animals, specifically dogs, have become an integral part of their life. Therapy, assistance and service dogs have become essential in many aspects for people with visual impairments, physical, intellectual and developmental disabilities, as well as individuals with Post Traumatic Stress Disorder and Traumatic Brain Injury.

The dogs have a well-bonded relationship with their handlers, and that relationship is essential; these amazing canines accompany them throughout their days, in and out of the home. The dogs provide a helping hand to the people they serve and in a way, act as an extension of that person to do what he/she is not able to.
For some, they provide a buffer of support, so to speak, in ways a human can't. This equals a better quality of life, and greater independence — something everyone is entitled to.
Service and assistance dogs undergo extensive training, and although many canines begin training, only a select few actually make it through their specific programs, graduate and begin lives to become service or assistance dogs.
As a way to educate the public and showcase how humans interact with specially trained dogs, the Council for Disability Concerns has opportunities available for the public to meet service, assistance and therapy dogs (and puppies in training), along with other events.
Presented by the University of Michigan Council for Disability Concerns in collaboration with University Human Resources and the University of Michigan Health System, Investing in Ability Week includes a free series of events from Oct. 22-26.
The theme for this year's symposium is "The Attitude of Accommodations: The Art and Architecture of Accessibility."
"Super Service Dogs! See how they help!" will take place from 11 a.m. to 1 p.m. on Monday, Oct. 22 in two locations: University Hospital Towsley Triangle and East Ann Arbor Health Center (4260 Plymouth Road) and from 11 a.m. to 1 p.m. on Tuesday, Oct. 23 in two locations: The University of Michigan Diag (near the Hatcher Library, 920 N. University) and Conference Room 5, KMS Place, 3621 S. State St.
On Tuesday, Oct. 26, a leader dog presentation will be the topic of focus with another event that will take place at University Hospital Towsley Center, Sheldon Room.
This presentation will feature several experts, including Suzanne Williams. A trainer of Leader Dogs, Williams will talk about how to interact with these dogs in a hospital setting. Debbie Dayton, of Leader Dog Clinic, has been using a leader dog since September 2001 and, with her leader dog Patrick, will give real-life examples of her experiences in both a clinical and hospital setting. Richard Michael with Leader Dogs for the Blind will discuss practical examples, solutions and hints to help attendees understand how they can best serve a person who is blind and uses a guide dog.
Also, on Oct. 26, Professor Kristine Siefert, U-M School of Social Work, will offer a condensed version of her course "Health and mental health benefits of the animal-human bond." The presentation will include a live demonstration of the interaction between a Paws with a Cause dog and its client, and a talk by the dog's trainer, and will be held in Graduate Library Gallery Room #100.
"There is such a broad range of what is considered a disability. And in our community there is an amazing diversity of people who provide support and ingenuity to help make daily life accessible," notes Anna Ercoli Schnitzer, liaison/disabilities librarian, Taubman Health Sciences Library.
Schnitzer has been a coordinator of the Council for Disability Concerns for 14 years and is chair of the Neubacher Award Committee for the past seven years.
The public is welcome to attend the events, which are all free of charge.
For additional information, log onto the Council for Disability Concerns website.
Lorrie Shaw leads the pets section for AnnArbor.com and owner of Professional Pet Sitting. Shoot her an email, contact her at 734-904-7279 or follow her adventures on Twitter.