Posted on
Thu, Oct 20, 2011 : 11:18 a.m.
Mammary gland cancer affects pets, just as it does humans
By Lorrie Shaw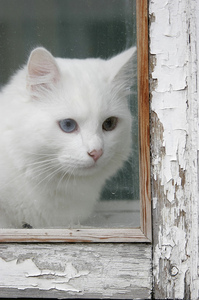 flickr photo by masochismtango
With the calendar telling us that October is over halfway over, you would need to be living under a rock to not have heard about events, important information and statistics related to a very important topic: breast cancer.
It is after all, Breast Cancer Awareness month, and with the disease affecting so many women (as well as their families), it's certainly an important topic.
The sad reality is that cancer of this type isn't exclusive to humans. The devastating disease can just as easily affect other mammals, like dogs and cats.
These animals can get the same types of cancers that affect the mammary glands as humans and can spread to other areas of the body, just the same.
The crucial difference between the species is that mammary cancer, (as it is referred to in dogs and cats), is that animals have multiple nipples — eight or more.
This presents a special challenge, as with more mammary glands, there are more places for a tumor to develop.
With so much information about risk factors, and genetic and environmental influences on cancer risk with their human counterparts, you might be surprised at one aspect of this disease that is very different for our four-legged friends: it's much easier to prevent.
That's good news, especially as in the case of felines, as it's the third most common type of tumor found.
Prevention comes from a simplistic approach: spaying (or neutering, you might hear it referred to with regard to both male and female animals). It is thought that exposure to the hormones that are released during the estrous cycle are the culprit in the occurrence of this cancer.
It is thought that this is the reason why mammary gland cancer rarely occurs in male animals.
Besides offering the benefit of a lower cancer risk, spaying is an integral tool in reducing other problems, like unwanted puppies and kittens, contributing to homelessness and overpopulation. Timing is everything, though when getting a pet neutered.
The likelihood of developing tumors of the mammary gland drops dramatically if the procedure is done by six months of age in dogs, as an example, before the first estrous cycle usually happens. In this case, dogs have a less than 1 percent chance of having mammary cancer.
If two or more heat cycles pass, the chances increase significantly, in upwards of 25 percent.
Some homemade diets and obesity are also associated with this type of cancer.
Early detection is key, so taking the time to physically examine your pet, looking for lumps, bumps — things like that — around the underbelly, especially around the nipples is helpful. Pet owners are the first line of defense in helping clinicians in an early diagnosis.
More on mammary gland tumors in pets, visit vetCares, an online cancer resource dedicated to help veterinarians and pet owners. Printable handouts from the site are available by clicking here and browsing the topics.
Lorrie Shaw is lead pets blogger for AnnArbor.com. Catch her daily dog walking and pet sitting adventures or email her directly.