Posted on
Tue, Dec 11, 2012 : 6 a.m.
Meet a 'funny girl' named Babs, our Ann Arbor.com Pet of the Week
By Deb Kern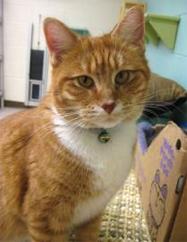 Babs is a 2-year-old orange and white, short-haired "funny girl." Her entertaining ways delight the other cats living with her in one of the
Humane Society of Huron Valley
community cat rooms.
Bab's "Memories" of living with a few too many cats in her previous home are not as joy-filled as they could have been. She's searching for "People" that will give her attention, cheek scratches and most of all love. She would enjoy the company of another cat or cats that are laidback like she is, and if you have a soft, warm cat bed, that would delight her.
Her friend Sally, who came from the same house as Babs, was adopted a week ago and we hope someone will read this story and Babs will be adopted too.
This wonderful cat has been waiting for a new home since April, and that is really "Raining on Her Parade". Can you help her forget "The Way We Were" and open up your heart and home to her? Babs would be for "Evergreen" — whoops, no, we meant forever grateful.
In all seriousness, please come and visit Babs, and maybe you will fall in love with her. Everyone at HSHV already has.
HSHV is open daily at 11 a.m. for adoptions. All pets available for adoption are spayed/neutered, up to date on their vaccinations, medically and behaviorally evaluated, and they have a microchip ID all included in their low adoption fee. Please make adoption your first option.
The Humane Society of Huron Valley, located in Ann Arbor, was awarded the "Best Large Animal Shelter in Michigan" by the Michigan Pet Fund Alliance, for the second time in a row this year, for saving the most lives. HSHV is an independent 501(c)(3) nonprofit organization and relies solely on donations from businesses and individuals to support our community programs.
HSHV is not affiliated with the Michigan Humane Society or any other humane organization. The mission of HSHV is to promote responsible and compassionate care of all animals in our community.
Deb Kern is the marketing director for the Humane Society of Huron Valley.