Posted on
Tue, Dec 20, 2011 : 5:28 a.m.
Meet the Ann Arbor.com Adoptable Pet of the Week: Snoopy
By Deb Kern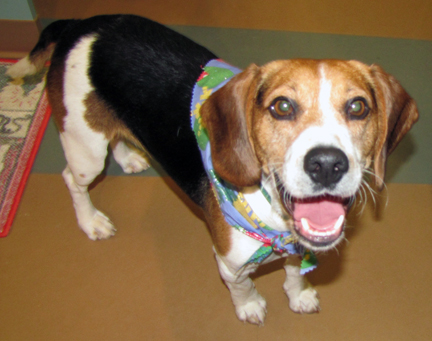 Photo by Ann Edwards
Snoopy is an adorable 4-year-old
Tricolor Beagle
. Beagles are scent hounds. Known for their amazing sense of smell, they often follow their nose away from their yards and families when they catch a good scent.
In fact, this is why so many beagles end up in shelters, and when they have no tags, identification or microchips, it is hard to locate their families. Snoopy ended up at the Humane Society of Huron Valley as one of these unlucky dogs — he had no identification at all.
This once-stray is a good-natured dog. He is outgoing and friendly and will a make great family pet. Because Snoopy has a history of wandering, he will need a fenced-in yard to give him a place to explore and to howl occasionally if he feels like it. Snoopy prefers a lap to sitting on top of any dog house, like the famous cartoon dog he is named after used to do. This Snoopy is an inside companion that wants a lot of cuddle time on the couch with you.
Many dogs that end up animal shelters never get reunited with their families because they have no identification. The national return to owner rate of dogs is 15 to 20 percent. Luckily because HSHV has an online Lost & Found service, and because we work diligently locating families, we have a 48% return to owner rate, but it could be so much better if people got their dogs licensed and microchip identification. The HSHV full-service veterinary clinic can put in a microchip for only $25 and it take less than 20 minutes to do so.
Click here for more on how to reduce the risk of your pet becoming lost.
Please stop by HSHV between the hours of noon and 6 p.m., seven days a week to visit our adoptable animals.
The Humane Society of Huron Valley, located in Ann Arbor, was awarded the "Best Large Animal Shelter in Michigan" by the Michigan Pet Fund Alliance, for the second time in a row this year, for saving the most lives. HSHV is an independent 501(c)(3) nonprofit organization and relies solely on donations from businesses and individuals to support our community programs.
HSHV is not affiliated with the Michigan Humane Society or any other humane organization. The mission of HSHV is to promote responsible and compassionate care of all animals in our community.
Deb Kern is the marketing director at HSHV.