Posted on
Mon, May 30, 2011 : 8:57 a.m.
On this Memorial Day, military working dogs deserve to be honored as well
By Lorrie Shaw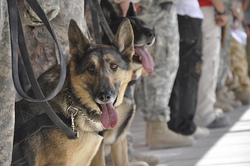 flickr photo courtesy of the U.S. Army
On this
Memorial Day
, we'll be remembering those who died while in our country's service. In present time, it's especially in the
forefront of our minds
, and with recent events, I think we are all more mindful of the effort and sacrifice that members of our military have given and what it's all for.

With a traditional image solidified in our minds of those who have served in the military, chances are that we might be missing more of the equation.
There is another link in the chain that remains faceless, generally speaking. Since World War I, military working dogs have been used to save countless lives, and those dogs have also become casualties.
During the Vietnam War, the use of military working dogs increased, and German Shepherds were usually the breed of choice, along with Labrador Retrievers. Capacities that the dogs (and their handlers) served in were usually as scout dogs, combat tracker teams and mine tunnel dog teams.
Canines in the military have gotten some press recently — and as someone who lives and breathes dogs, that's exciting for me.
Dogs are amazing creatures and have abilities that are unmatched by even the most well-trained human soldier. In some cases, without their "expertise," so to speak, some of the strides that are made wouldn't be possible.
The unfortunate side of that coin is that canines serving in the military can be affected just the same by traumatic experiences, just as their human counterparts.
Some, have paid the ultimate price. Read some of those stories here.
Today, many military working dogs train for patrol work and in explosives detection skills. In peacetime, they assist their human counterparts in drug intervention along the United States' southern borders and work as drug detector and explosive detector dogs with the Secret Service. Without the sacrifice of these dogs, some of this work would be much more difficult or impossible.
Lorrie Shaw is lead pets blogger for AnnArbor.com and owner of Professional Pet Sitting. Shoot her an email, contact her at 734-904-7279 or follow her adventures on Twitter.