Posted on
Thu, Dec 29, 2011 : 11:40 a.m.
O'Neal's Feeders Supply asks stores to pull pet food from shelves in voluntary recall
By Lorrie Shaw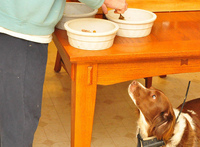 flickr photo by jefferyw
Another pet food manufacturer has announced their own
pet food recall
because levels of
aflatoxin
—a naturally occurring byproduct from the growth of Aspergillus flavus in grain crops a that are higher than acceptable levels.
O'Neal's Feeders Supply Inc.
, based in DeRidder, La., announced that it has recalled dry
Arrow Brand dog food
manufactured over the span of an entire year, between Dec. 1, 2010, and Dec. 1, 2011, because it contains an ingredient detected to have higher than acceptable levels of the toxin — corn.
Click here to learn more about the symptoms of aflatoxin poisoning.
The company said the recall applies only to dog food distributed in Louisiana and Texas with packaging date codes/lot numbers from 4K0341 through 4K0365 and 04K1001 through 4K1325.
According to aFood and Drug Administration press release, retailers have already been instructed to remove the following affected brands and products from store shelves:




ARROWBRAND 21% Dog Chunks SKU #807 40-pound bag



ARROWBRAND Super Proeaux Dog Food SKU #812 40-pound bag



ARROWBRAND Professional Formula Dog Food SKU #814 50-pound bag


Consumers may return the recalled dog food (in opened or unopened packages) to the point of purchase for a full refund. For more information contact 800-256-2769 between 9 a.m. and 5 p.m. Monday-Friday.
With all of the pet food recalls just over the past year, are you rethinking your strategy when feeding your pets? Have you researched more unconventional methods, like homecooked or raw diets because of the recalls?
Lorrie Shaw is lead pets blogger for AnnArbor.com. Connect with her on Google+ and follow her daily pet adventures or email her directly.