Posted on
Thu, May 23, 2013 : 6 a.m.
Having a severe weather plan can easily include pets
By Lorrie Shaw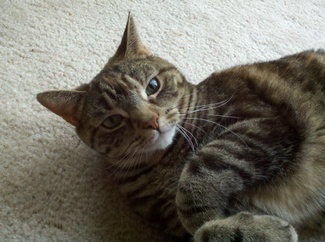 Lorrie Shaw | Contributor
I think it's a safe bet that we're free from the worry of frost advisories (finally!) and if you're like me, you're really enjoying the outdoors.
Certainly, as a pet sitter, I'm thrilled. Working outdoors much of my days, I get to take in all of my favorite sensate delights — the smell of the air, the warmth, the dragonflies — but I realize the danger because of the rough weather that can occur when there is a vast shift in temperature.
The weather events in Oklahoma earlier in the week — not to mention what was experienced in Dexter last year — are a testament to how important it is to be prepared ahead of time should a severe weather event like a tornado occur.
Being ready isn't limited to just having a flashlight and a radio while huddled in the basement or in a room on an interior wall.
If pets are in your midst, they need consideration too. And, with a few simple rules of thumb, being ready can really put your mind at ease — before, during and after severe weather.
Make sure that your pet has a collar with identification and/or is microchipped. If they are lost in the event of a disaster, these tools will make it easier to be reunited. (I recommend that my clients have an ID tag — or, as one client does, flyers — with my contact info on them while they're away.)


It sound a little techie, but in addition to paying attention to the weather forecast, look to my Twitter feed (and include the hashtag #miwx) for Michigan-centric information. In real time, I can get a great idea of what is going in and around the areas that I need to be in on any given day. I've also found other social media platforms to be quite useful during and after a weather event.


In our basement, we have a pet survival kit that includes: fresh stash of pet food (consider easy-to-store pet nutritional bars), bottled water, medications (don't forget to include syringes and a Sharps waste container if diabetes is present), veterinary records, a disposable cat litter pan, extra food dishes, a pet first aid kit, poop bags, a quart-sized container of bleach and other supplies with us in case we need them if a disaster hits. Don't forget a comfy pet bed for each pet!
Ensure that you have some photos of your pet should you and your pet become separated.


Have favorite toys and treats on hand for your pet. They provide a fun outlet and reduce stress during tough situations.


If you have a cats and other small pets, make sure that you have a secure pet carrier handy in case you need it. For dogs, have leashes for each dog ready; we actually put a harness on them as we head to the basement when the situation calls for it.


Rescue alert stickers will let rescue people know that pets are inside your home. Make sure it is visible and that it includes the species and number of pets in your home, the name and contact information of your veterinarian. If you must evacuate with your pets, try to remember to write the word "EVACUATED" across each sticker.


Never leave your pet chained outdoors, or to fend for themselves. They depend on you to provide care for them.
Additionally, please note that not all shelters accept pets if you must seek refuge temporarily. Click here to learn more from Federal Emergency Management Agency (FEMA) about sheltering your pet if you are unable to return home, and more tips on caring for pet birds and other considerations should disaster strike.
Lorrie Shaw leads the pets section for AnnArbor.com. Catch her daily dog walking and pet sitting adventures or email her directly and subscribe to AnnArbor.com's email newsletters.