Posted on
Mon, Apr 2, 2012 : 5:57 a.m.
Who, when and how: Food for thought on finding the right dog training professional
By Lorrie Shaw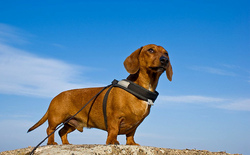 flickr photo by FredrikRB
The question that I get asked about the most by family and friends alike is central to one area: dog behavior and training.
Admittedly, I'm always reluctant to offer advice of my own about behavior problems, as I'm not a trainer, or even an animal behaviorist by any stretch of the imagination.
But because of my experience as a dog professional, I do recognize when good training methods are employed, when a behavioral professional needs to be called in and, most of all, that training is always more about people than the dog themselves.
One of the most frequent queries that I get from readers and acquaintances is, "Who do you recommend for puppy classes/dog training?"
There are trustworthy, capable and approachable professionals and behaviorists that I feel comfortable recommending, but, sadly, the bottom line is that not all dog professionals are created equal.
The same can be said for people who've chosen all sorts of professions.
Having said that, finding the right trainer is paramount, but when you find them is as important.
So, when is the right time? It's not when problems start with said puppy, and not when they are six months old.
When that's the case, it's challenging to create a happy and health life for you and your pooch together.
You should plan ahead and find a trainer you feel comfortable with before you get a puppy or a dog (or add to a family of pets). In doing so, you can proceed in a more confident manner, make better choices and avoid common pitfalls.
The funny thing is, I seldom get questions about the topic of selecting a class or a trainer before the puppy is home. In fact, it's usually asked when a family finds that they are ill-equipped to handle problem behavior.
Where do you look to find the right trainer? Good places to start are by asking the veterinarian that you've chosen (yes, you should choose this professional wisely in this area, too) and doing some homework.
The internet is a great resource of information; you can gather names of professionals and research their methods and philosophies on their websites, blogs or perhaps by consulting the Association of Pet Dog Trainers website to search for trainers.
Click here to get a better understanding of professional designations that are associated with the field of dog behavior.
So once you find the names of professionals, what do you do? By all means, interview them and ask questions!
How long have you been a trainer/behaviorist?
What's your philosophy in training? Why did you decide to become a trainer?
Can I meet your clients and their dogs? What about your dogs?
If they offer group classes, ask to come in to where they teach and sit in on a class. You'll want to evaluate what you observe. After your research and observation, if you're uncomfortable with what you're seeing or any red flags go up, move along. Click here for more of my tips on puppy classes.
Over the weekend, I ran across an excellent article where this premise is reinforced by Dr. Ian Dunbar, PhD, BVetMed MRCVS — a world-renowned expert in animal behavior with a career spanning over 35 years.
It just makes sense to get off on the right foot when it comes to learning how to communicate effectively with your canine — regardless of the age they're at when you come together — and to have realistic boundaries when training and realistic expectations of a canine when it comes to behavior.
Further, Dunbar addresses misconceptions of bite inhibition, as well as the topics of dominance and the idea that domestic dogs are not pack animals.
And, as Dunbar notes in the piece, "Training is about giving your dog social savvy and confidence so that your dog is cool in your house and you can walk him so that he can greet anyone."
Ah, yes, enabling dogs to be as confident and settled as possible. How refreshing.
To read the article, "Good Dogs Do Bite: Training Advice from the *Real* Dog Whisperer" on Forbes.com, click here.
Lorrie Shaw leads the pets section for AnnArbor.com. Catch her daily dog walking and pet sitting adventures or email her directly and subscribe to AnnArbor.com's email newsletters.