Submit a favorite photograph of your pet for this weeks' Friday Pet Photos
Posted on Wed, Jan 26, 2011 : 9:16 a.m.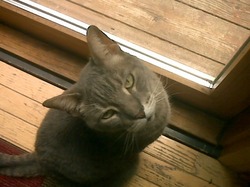 Lorrie Shaw / Contributor

Last weeks' Friday Pet Photos was a real treat, with our theme "pet/owner look-alikes." Having photos of our companion animals around is a great way to show them off, but it also serves another purpose: If your pets end up missing, recent photographs can be an important tool in getting them come home safely.
To encourage the good practice of having up-to-date photographs on hand for your own records (digital cameras are very helpful with that), we invite you to email one of those photos of your pet —regardless of the species — to ppsa2mi@gmail.com, any time during the week, to participate in our Friday Pet Photos slideshow.


Please include the animal's name, age and city or township of residence in your email. Be sure that your photos are 600 pixels wide and in .jpg format.

We put the week's photos into a slideshow, publish and promote each Friday here in the Pets section.