Posted on
Mon, Nov 21, 2011 : 5:50 a.m.
Thanksgiving can be more enjoyable for pets and people alike with a few simple tips
By Lorrie Shaw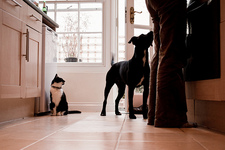 flickr photo by Zach_Beauvais
As far as holidays go, Thanksgiving offers a bit of all things that we really love: a little time off from work, more time with family and friends — and food!
Pets are a part of the equation for many families, and, although the idea of having more people around the house can seem like a boon for pets, the extra hustle and bustle, upset routine and the table scraps that inevitably find their way to a pet's tummy can prove to be a bit more than some pets can handle.
Pet health emergencies and behavioral problems tend to increase during the holidays. With some mindfulness, the next few days and weeks can be more enjoyable and safe for everyone, whether they are on two feet or four.
Stay on track
Just like most of us, pets thrive on routine. There is something to be said for maintaining your pets' regular meal and exercise schedule. In doing so, you'll encourage good behavior and keep them feeling good.
We all need to be alone, sometimes
When company comes, it's a lot of fun, but as any host knows, having house guests for any length of time can be a bit stressful; it's natural. Times like this can be difficult for any pet, too.
Minimizing any tension is simple. Provide your four-legged friends with a quiet, out-of-the-way room during gatherings. Even if your pets enjoy socializing with people, having a space where they can chill out without being bothered is a must. I particularly like the idea of providing a crate for dogs in that quiet space, with a comfy dog bed in it to provide an extra sense of security.
Stay hydrated
Make sure your pet always has fresh water. With more people in the house, invariably someone is bound to bump into the water bowl, leaving your pet high and dry.
Counter surfing
A common, yet unwanted behavior, some dogs easily reach things in the kitchen that are counter-level. Ingesting yummy food that can harm or cause simple stomach upset is an obvious concern, but so is dragging off a heavy dish or pan or getting burned. Click here to get tips on curbing this dangerous behavior from Amy Samida. Julia Levitt also offers ideas on dissuading curious canines.
Keep the wraps under wraps
The holiday season is synonymous with more cooking and baking. Intestinal obstruction can result from ingested pieces of aluminum foil, wax paper and plastic wrap. Make sure that these things are put into the garbage.
Talking trash
All of the extra cooking means that a higher volume of the amount of refuse thgat accumulates. Let's face it — it's attractive to some pets. To be on the safe side, take out your trash often, use a trash can with a lid or in some cases, physically lock up your trash container where it's completely out of reach.
Playing keep away
Too many fatty, rich, or unfamiliar foods can give your pet pancreatitis or gastroenteritis, two medical conditions that can be very painful and even life-threatening in some breeds.
A tiny bit of skinless fully-cooked turkey, gravy and veggies like plain sweet potato are okay to give your favorite feline or canine, (consider stuffing a Kong full of these goodies for your pooch during mealtime in their space), but too much of a good thing can result in a bad time for them. You also want to avoid giving pets any bones, grapes, raisins and chocolate.
Keep an eye on your beverages
Many gatherings include alcoholic refreshments. Bear in mind that dogs will readily lap up an errant beer or other alcoholic drink if given the chance. Alcohol can prove deadly to pets, so make a point to keep an eye out for unattended drinks, and remind guests to keep their beverages close at hand.
Ready, set, go
Considering a road trip with your furry friend? Lots of families do it, and successfully so! After all, dogs, especially like to be included, too if possible. Click here for things to keep in mind when heading out with your pooch.
Lorrie Shaw is lead pets blogger for AnnArbor.com. Connect with her on Google+ and follow her daily adventures as a professional pet sitter or email her directly.