Posted on
Sun, Dec 19, 2010 : 8:05 p.m.
The Kroger Company announces dry pet food recall affecting 19 states
By Lorrie Shaw
A recall involving certain bags of dry pet food has been announced by the Kroger Company on Saturday, Dec. 18.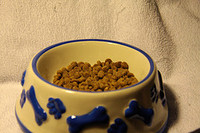 flickr photo courtesy of mshades
The
recall
is due to a possible aflatoxin contamination and affects the following states: Alabama, Arkansas, Georgia, Illinois, Indiana, Kansas, Kentucky, Louisiana, Michigan, Mississippi, Missouri, Nebraska, North Carolina, Ohio, South Carolina, Tennessee, Texas, Virginia and West Virginia.
Aflatoxin, according to the Centers for Disease Control, is a fungal toxin that commonly contaminates maize and other types of crops during production, harvest, storage or processing. Aflatoxin, a mycotoxin, has been known to affect the liver when consumed. No animal species are immune to the effects of the toxin. Click here to read more about aflotoxin.

Pet owners who suspect that their pet might have been affected should look for the following symptoms and contact their veterinarian immediately:
signs of sluggishness or lethargy
reluctance to eat
yellowish tint to the eyes or gums
blood in stool or diarrhea
The recall involves certain bags of Pet Pride Cat Food, Pet Pride Kitten Food, Old Yeller Chunk Dog Food, Kroger Value Cat Food and Kroger Value Chunk Food.
For a complete list of the recalled cat and dog food, consumers can view the Kroger press release. The company urges consumers to not use the recalled items and to return the pet food to the store for a full refund or replacement. Consumers may also contact Kroger toll-free at 800-632-6900 or visit the Kroger recall website.
Lorrie Shaw is a regular contributor to AnnArbor.com's pet section and wrote the popular piece "Saving your pets life in a poisoning emergency - the basics". Reach her via e-mail and follow her pet adventures as owner of Professional Pet Sitting on twitter @psa2.