Posted on
Fri, Apr 8, 2011 : 10:35 a.m.
Therapy dogs in the hospital help patients feel more at home
By Ronald J Wiedbusch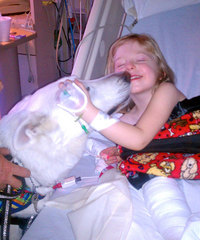 Photo by Krista Boyer
Every year, millions of American spend time in a hospital setting for minor or major medical reason. These situations for most of us are scary, traumatic and sometime lonely experience that we all wish to avoid as much as possible. We lose many of our everyday comforts such as a favorite blanket, pets and the ever day sights and sounds that we are use to.
Because these settings are so intimidating, therapy dogs can help keep the moods of all those staying and working in a hospital just a bit higher.
Therapy dogs are a special kind of service dog that is highly trained to be passive and interactive with people in all situations, no matter what surroundings they are presented with. The dogs can be poked and prodded and can take whatever rough play a kid can throw at them without reacting in a aggressive way.
Their training is regulated by Therapy Dogs International (T.D.I) so that every dog that is certified lives up to a very strict set of criteria. Lucky enough, my assistance dog, Storm, is one of these dogs, which allows us visit people when they need a friendly face the most.
Every week, Storm and I take some time off from our normal educational programs and spend it visiting hospitals in both Michigan and Ohio. We visit children, veterans and hospice units to try and bring some smiles to a otherwise very serious environment.
Every time we walk into a room, we always feel the mood lighten just a bit, and we give people a bit of a time out from the problems that they are dealing with. Some days it can be very challenging, but the good we do makes it worth it.
As you no doubt could imagine, bring a therapy dog into a setting such as this does a number of things. They positive effects are felt by all those that we visit.
The first thing that a therapy dog does is relieves stress for everyone who happens to meet us. The hospital environment is a very different world then what we are used to living in every day. There is jargon we don't understand, people running in what seems organized chaos and just a totally different environment then what we are use to.
The act of petting a dog or just laying with them for a few minutes can help those we meet relax and feel more at home with everything that is happening in life. It brings people , as I like to say, back home for just a little bit.
The second is that is helps battle the feeling of loneness that always comes from being in a hospital setting. While we have visitors, and the staff always tries to be as caring as they can be, most people end up getting homesick before long.
When Storm and I come into the room to visit, we try to give them back a bit of the feeling of being back at home, just talking to a friend. Storm curls up on the bed with them, and we just visit for as long as we can.
I have had plenty of people just ask us to stay so they could cuddle with Storm and fall asleep, and we were always happy to do so. It gives those we meet a warm feeling of security to help them cope with what they are going though.
A third thing that a therapy dog can do in these settings is visit and relieve stress for the staff. Everyone knows that our medical professionals work long and hard hours with very little sleep many days.
Because of this, we end up taking away almost as much stress of some of the works as we do those who are staying in the hospital. Everyone gets to take a few seconds off, hang out with Storm, pet him, and be reminded of their own pets who are waiting for them at home.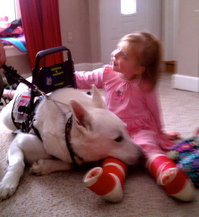 Photo by Krista Boyer
With all these benefits and plenty more, it's not hard to imagine why a number of hospitals in Michigan have in fact adopted their own therapy dogs to work there on a permit basis. One such dog is Henry who works at Henry Ford Hospital. And, Genesys hospital who has a entire program dedicated to therapy dogs. We have had the pleasure of getting to know these dogs a bit as well as work with many of the trainers who help get dogs T.D.I. certified.
I would also like to take a few second as well to make sure people are aware that if they have a dog of good temperament and are willing to go through training, there are plenty of programs throughout the state that will help get your dog T.D.I. certified.
All dogs have to go though a few temperament tests, and if they pass, then you are all set to start training. It takes a dog with a very relaxed temperament who can follow commands, but if that sounds like your dog and you would like to get involved, there is always a homesick person who would one day love your company.
Ron Wiedbusch is a regular contributor to AnnArbor.com's pets section and works in the community to raise awareness about Assistance and Therapy Dogs and the Americans with Disabilities Act with his certified Assistance, Service, Rescue and Therapy Dog, Storm. The pair can be found at various places in the community throughout the week, and each day patrolling the area around Ypsilanti Public Schools as part of the Safe Schools Program.