Along the Bridle Path
Pets:

'Along the Bridle Path' - a new blog dedicated to horse lovers

Posted on Tue, Jan 18, 2011 : 10 a.m.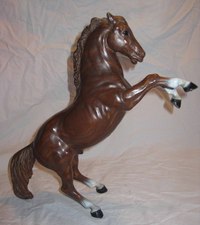 Horses draw you in with their beauty and strength. They captivate with ever changing form and mood, tethered as they are to the land and the elements. Equine instincts, motives and behaviors are quite different from our own. Working with horses and the people who love them is fascinating, challenging, sometimes frustrating and often rewarding in unexpected ways.
When I was contacted about being a community contributor for AnnArbor.com, writing on horse issues, I was interested. An opportunity to share my enthusiasm for horses with the Ann Arbor community was something I could not pass up. Let's discuss horses, horse sport and activities, horse people and issues relevant to horses today!
I am not a world expert in any one area of the horse world. I simply have a broad-based, long standing interest in all things equine. As a child, I read all available horse genre books and magazines I could get my hands on. When my family went on vacation and we were allowed one souvenir; I chose small horse statues, be they made of wood, metal, rock, straw or plastic.
For my birthday I wanted Breyer models. I still have much of my original collection, which continues to grow. For summer Girl Scout camp, I went for the horse option. I collected all printed material on Secretariat and even studied Marlboro commercials (not for the Marlboro man, but for his steeds).
Sadly, efforts to get my father to build a pony stall in our garage were not successful.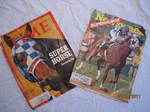 My preoccupation with horses took a back seat for awhile as I pursued higher education, career and family.
When my eldest daughter grew old enough to say "I like horses," I replied "Great! Let's buy one!" We took lessons together and, within a year, bought our first horse, a beautiful Arabian named Montego. Little did I know it would be the start of a big turn in my life.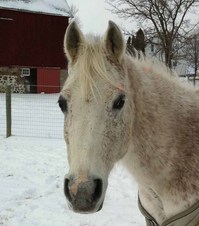 Kathy Lundberg | Contributor
We now own and operate a stable with boarding, a lesson program, summer camp and pony parties. We have owned Shetland ponies, thoroughbreds, warmbloods and Arabians. We have witnessed baby horses born and held dear ones through death. We have participated in trail rides, horse shows, fox-hunting, polo, jumping, English, Western and Saddleseat, as well as cart driving. We have met truly crazy horse people and very special friends along the way. I have learned a little bit about everything from dirt to grass to horse to manure to worms and back again.
What do I intend to blog about? Daily life. Something unusual always seems to be happening around horses. My eldest daughter is now a pre-veterinary student at Michigan State University and is willing to offer perspectives from her vantage point. We hope that you will find Along the Bridle Path of interest. Have a subject you would like to explore? Let us know!
Kathy Lundberg is the owner of Scio Church Stables. Email her at scs@sciochurchstables.com.