Posted on
Thu, Dec 9, 2010 : 5:58 a.m.
A fan's guide to The Big Chill At The Big House and other tidbits you may never need
By Jeff Arnold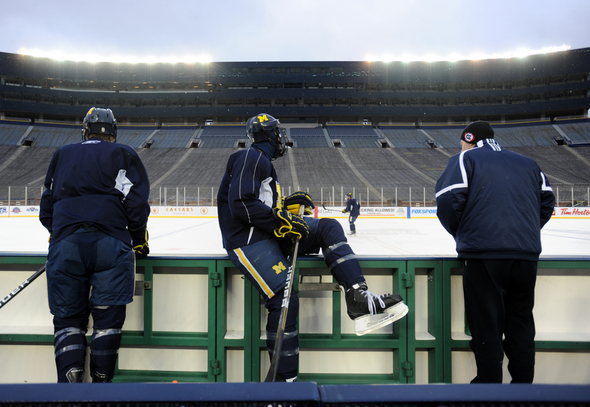 Melanie Maxwell | AnnArbor.com
You have had the date circled on your calendar for months. You have your Big Chill At The Big House tickets in hand and even secured the obligatory T-shirt announcing to the free world that you were part of the largest crowd to ever witness a hockey game.
OK - so before you go out and purchase five copies of the Guinness Book of World Records to back up your shirt's claim, let's step back for a minute.
What do you actually know about what you are going to see Saturday at Michigan Stadium?
Maybe you are among the die-hard hockey lovers that can't wait to see the puck drop on Michigan and Michigan State on Saturday (3 p.m., Fox Sports Detroit). Maybe you have committed both teams' stat sheet to memory just to impress your friends.
But for the rest of you, oh, give or take 80,000 ticket holders who are coming along for the ride, we figured we would help you out.
Consider this your Big Guide to the Big Chill at The Big House.
Let's start with the name Mention "The Big Chill" to most and they will point you to their DVD collection and a 1983 movie that shares the same name. They can give you the basic story line and sing along with the Motown soundtrack that accompanies the movie that centers around college friends that reunite 15 years after graduation for a friend's funeral.
So you're wondering what in the name of Hobey Baker does that have to do with college hockey?
The last time Michigan and Michigan State's hockey teams faced one another outdoors nine years ago, the game was tabbed The Cold War. As you can imagine, that was met with some mixed reviews, leaving Michigan officials to go in a different direction.
Given the fictional ties The Big Chill script had to the Michigan campus, the game's theme was given the same name. Just in case you're interested, the two co-writers of the film's screenplay, Lawrence Kasdan and Beverly Benedek gave Saturday's event their blessing and will drop the puck in a pre-game ceremony.
Before we go on, let's dispel one myth Although Michigan State claimed to set a world's record by drawing 75,544 fans to Spartan Stadium in 2001, event officials neglected to contact the Guinness folks over in jolly ole' England.
So if Saturday's Big Chill main event draws the crowd of more than 109,000 that is expected to pass through Michigan Stadium's turnstiles, the record will shatter a mark set earlier this year. Officially, the record for hockey game attendance stands at 77,803 set at the International Ice Hockey Federation World Championships in Germany.
Michigan officials have been in touch with Guinness representatives and have taken all the necessary steps to make sure this record stands.
Prepare for a loud and cold event With that out of the way. Here's what to expect. Expect first and foremost to be chilly unless you come properly attired in either old-school long-johns or the fancy-schmancy Under Armour the players will wear on Saturday.
One suggestion: Don't use Michigan coach Red Berenson as your style guide. During last season's Camp Randall Classic, Berenson - a native Canadian - braved temperatures in the 20s in just his suit for the first two periods. He only added an overcoat and hat for the third period, relishing the chilly winter night.
Expect the atmosphere to be loud. Hockey fans aren't exactly known for civility - especially when it comes to the Michigan-Michigan State rivalry. There may be words uttered by the Michigan student section that require a little chat with your kids once you arrive home Saturday night.
If you haven't seen The Blues Brothers, call Netflix just for the popular dance number that will be the highlight of the second intermission. After all, the "Jump Around" inside Wisconsin's Camp Randall Stadium is so last year.
Talking the talk Hockey can be a difficult game to understand, especially if, say, you haven't been to a hockey game before. Like any other sport, it has its share of terminology that may cause you to scratch your head. Here's a quick guide.
The neutral zone: The rink - in this case an Olympic-sized sheet that measures 200 feet by 100 feet - is divided into three equal zones. The zones are separated by blue lines with the center section of the rink basically being considered Switzerland. If a team gains possession of the puck, none of its offensive players can advance into their offensive zone before the puck does. If that happens, off-side is called.
Face-off: These typically re-start play following any number of stoppages and takes place by the referee dropping the puck between two players, who then try and gain control of the puck for their team.
Icing: When a player sends the puck from his own offensive zone down to the opponent's zone without it being touched by a defending player other than the goalie. Icing results in a face-off in the end of the rink the puck was shot from.
Penalty kill: When either team is whistled for a penalty (normally two minutes with the exception being a 5-minute major for more serious offenses) a team must skate short-handed for the duration of the penalty. That puts the team with five skaters at full advantage on a power play, leaving their opponents to try and kill off the penalty. Teams score on average 20 percent of the time while skating with a one-man advantage.
Hat trick: If a host of baseball caps or ski caps in this case suddenly wind up on the ice, it signifies that a single player has scored three goals in the game.
Who to watch
Michigan is led in scoring by seniors
Carl Hagelin
and
Louie Caporusso.
. Hagelin hails from Sodertalje, Sweden, and, typically, has his goals recognized with the flapping of a large Swedish flag that covers about three rows of the Michigan student section at Wolverines. Hagelin is tied with
Scooter
"No one calls me Charles"
Vaughan
and
David Wohlberg
in goals, each having scored seven times.

Caporusso, one of four Canadians on Michigan's 26-man roster, has scored six goals, but has a team-high 10 assists, helping him match Hagelin with 16 points. Fast fact about Caporusso: His actual first name is Luigi and said his teammates have started calling him "Gigi" - although I wouldn't recommend it without a hockey stick in your hand.

Matt Rust:
The senior forward is one of 12 native Michiganders on the Wolverines' roster. He probably understands the Michigan-Michigan State rivalry better than most. Rust's mother is a proud member of Spartan nation while his father holds a degree from Michigan. According to Rust, he grew up in a house that had a bathroom with a paint scheme that split down the middle between blue and green.
Red Berenson: The 71-year-old Michigan coach is a veteran of two previous outdoor coaching appearances. In addition to coaching in the Cold War, Berenson, whose real name is Gordon and shared the same color-coded nickname with his father, also coached in last year's Camp Randall Classic. He grew up playing on outdoor rinks in his hometown of Regina, Saskatchewan.
Michigan State has three players on its roster with NHL ties. Dean and Jake Chelios are underclassmen with the Spartans are are the sons of recently retired NHL player Chris Chelios. Junior forward Trevor Nill is the son of Detroit Red Wings' assistant general manager Jim Nill. Michigan State junior goalie Drew Palmisano is celebrating a homecoming as part of the Big Chill festivities, having grown up in Ann Arbor and graduated from Pioneer High School in 2006.
Just FYI ... Saturday's Big Chill festivities include a fan fest on the corner of Pioneer High School's property. It begins at noon there will be interactive games and other activities.
Parking locations will be almost identical to football Saturdays. with each of the university lots being fully operational, including the Michigan Golf Course (weather permitting). Parking costs range from $20 at the golf course and university lots to $30 at Ann Arbor Golf and Area and Fingerle Lumber Company (617 S. Fifth Street). The Ann Arbor Transit Authority will run shuttles that cost $1.50 each way.
Items normally banned at stadium gates (including large bags and water bottles) will not be allowed inside the stadium for the Big Chill. Following the game, a 7-minute fireworks show will take place, originating from 25 spots at ground level inside the stadium and from eight spots on both the stadium towers.
Saturday's weather forecast calls for temperatures to be in the mid-30s with a 20 percent chance of light rain or snow during the afternoon. Michigan Stadium concession stands will be fully stocked with coffee and hot chocolate.
Jeff Arnold covers Michigan hockey for AnnArbor.com and can be reached at (734) 623-2554 or by e-mail at jeffarnold@annarbor.com. Follow him on Twitter @jeffreyparnold.