Opening weekend does little to answer Michigan hockey's goaltending questions
Posted on Thu, Oct 18, 2012 : 5:53 a.m.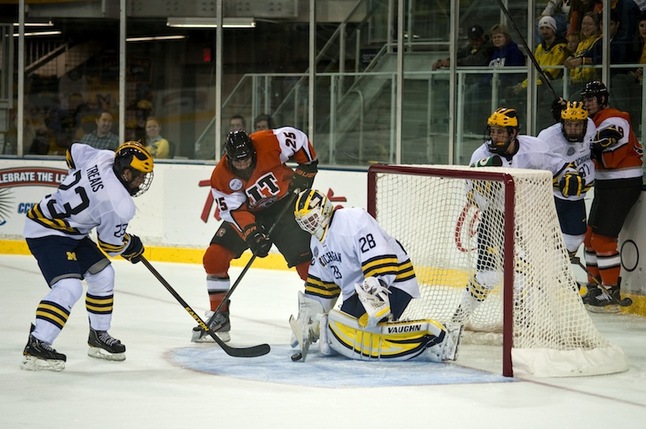 Joseph Tobianski | AnnArbor.com
It was one of those nights, Jared Rutledge said.
Michigan's freshman goalie, in his first comments since a rocky debut in the Wolverines' 5-4 overtime loss to Rochester Institute of Technology Thursday, was contrite about his performance.
"I don't think that displayed my ability or our team's ability," Rutledge said. "I think our team backed me up enough and I didn't back them up enough. That's something that's going to happen being a goalie, and you've just got to put it behind you and forget about it and move on."
Michigan entered the season with goaltending as its biggest question mark, and a week into the regular season, that remains the case.
After Rutledge started in Thursday's season opener, fellow freshman Steve Racine got the nod the following night, and gave up two goals in a 7-2 win.
The Wolverines continue their season Friday night with a home matchup against Bentley. Coach Red Berenson said after Monday's practice that he has yet to make a decision as to who will start in net.
Going forward, the two could split time until a clear-cut starter emerges, Berenson said. He had previously indicated that Rutledge would be the team's primary goaltender.
Rutledge missed two weeks of the preseason with an eye injury, returning to face pucks a week before the opener. Berenson said Monday that he was put into a game "sooner than he might have been ready for," given his limited preseason experience.
"As far as his timing and his confidence and getting into a groove, he's probably not there yet," Berenson said. "It's been a tough fall for him in that regard. He's a freshman goalie coming in and then he misses the better part of two weeks of skating, and then he skates for a week and we expect him to play well."
Rutledge was fitted with new contacts last Thursday, and called his eyesight a "non-issue."
Reflecting on Thursday's start, Berenson said Rutledge was "fine" after two periods, but may have tired or lost focus in the third. Rutledge gave up three goals on eight shots in the final period and the game-winner just 14 seconds into overtime.
Of RIT's five goals, most could have been saved, but Rutledge has displayed a positive demeanor in the days since the loss Berenson said.
"He's a young goalie, he'll be fine," Berenson said. "I think the one thing it does, when you know you can play better, is it makes you realize you've got a long way to do.
Thursday's result gave Racine, a fellow freshman but two years older than Rutledge, a chance to make his debut and take some of the pressure. And the two freshman goalies continue to support each other as they battle for playing time.
"I support Jared, he supports me, I want nothing but for him to play the best he can and for me to play the best I can too," Racine said.
Compounding the goalie issue is continuing health problems with the Wolverines' defensive corps. Less than a week after Jon Merrill suffered a cracked vertebrae, sidelining him for the near future, Kevin Clare sat out Monday's practice with a shoulder injury. Berenson called Clare doubtful for Friday's game.
"It's a good thing we have depth, with those two guys getting hurt," defenseman Jacob Trouba said. "They're kind of big pieces of our team. That's something we're going to have to deal with. I think every defenseman's going to have to step up a little bit."
Both players were partnered with Trouba when they got injured, forcing Berenson to once again shuffle his defensive pairings. Trouba was partnered with Mac Bennett at Monday's practice, while Lee Moffie was partnered with Mike Chiasson. Sophomore Mike Szuma has been added to the lineup, partnered with Brennan Serville.