Posted on
Fri, Feb 8, 2013 : 5:45 a.m.
Freshman Boo Nieves is Michigan hockey's leading scorer after 'huge weekend'
By Kyle Austin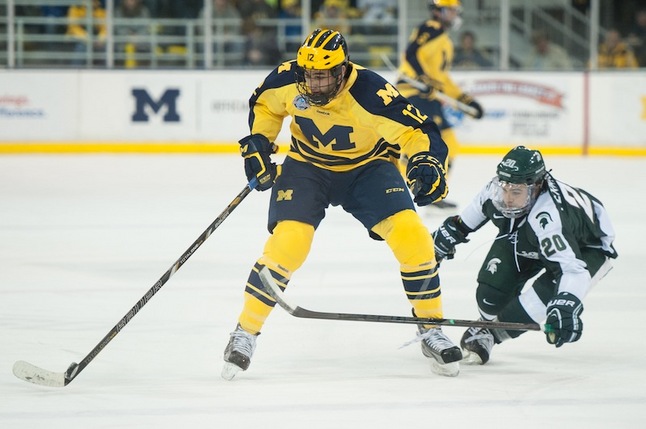 Courtney Sacco | AnnArbor.com file photo
Michigan freshman forward Cristoval "Boo" Nieves had himself quite the 72-hour stretch from Friday night to Monday night.
Friday night, he recorded his first multi-goal game in a Michigan uniform, scoring two in the Wolverines' 3-2 win over Michigan State.
Saturday, he had a goal and an assist as Michigan completed its first sweep of the season.
Monday afternoon, he received the CCHA's Rookie of the Week honors, becoming just the second Wolverine to win a league weekly award this weekend.
And Monday night, he was on stage at Hill Auditorium, dancing to "Cotton Eyed Joe" in a blue fishnet shirt and skintight pants and as part of his team's Mock Rock performance.
"It was fun, we were pretty nervous," Nieves said. "We worked on it the night before, so it was all kind of thrown together, but it was fun."
Put it all together, and Nieves had plenty to smile, and laugh, about after Tuesday's practice.
"I think it was a huge weekend for me," Nieves said. "It was a step in the right direction for sure. I just kind of got a lot of lucky bounces, I was skating, hitting, and everything just kind of fell into place."
That huge weekend has Michigan on its first winning streak since October, heading into a weekend series at Notre Dame.
The five-point weekend also made Nieves the Wolverines' leading point producer, with 21 on the season (seven goals, 14 assists.) Phil DiGiuseppe and A.J. Treais both have 19.
Nieves now has four goals in his last five games, after scoring only three in the 23 games before that.
A big part of the production surge, he said, is a move about a month ago from right wing to center.
"I think I'm more of a natural center," Nieves said. "I played center my whole life before coming here, so I feel pretty comfortable playing center."
Michigan coach Red Berenson said he knew coming into the season the Nieves was a natural center, but opted to start him out on the wing, given the large defensive role given to Wolverines centers.
"I had him play right wing, and he was fine there, but I think it really jumpstarted him when we put him at center," Berenson said. "He felt more comfortable there, and he just took took off."
Nieves is the latest in a string of Michigan freshmen to have breakout years. Last year, Alex Guptill led the team with 33 points on 16 goals and 17 assists. The year before, Jon Merrill was first on the team among defenseman and fourth overall with 25 points.
But with Guptill putting up only half of his numbers from last year with six games left, Merrill missing the entire first half, and plenty of other Wolverines struggling offensively, Nieves has taken on a large role.
"He's doing a good job with it," Berenson said. "He's got a good attitude, he works hard, he's coachable, he's listening, he's learning, he's a smart kid."
Bennett back, Clare out
Michigan will likely have one of its key defensemen back this weekend, but another probably won't be playing again this season.
Defenseman Mac Bennett, out with an injury for the last eight games, resumed practicing this week. Berenson said he should return to action this weekend.
Kevin Clare, though, will probably not be returning to the Michigan lineup this season, Berenson said this week. Clare has been out the entire second half with nerve damage in his shoulder.
Kyle Austin covers sports for AnnArbor.com. He can be reached at kyleaustin@annarbor.com or 734-623-2535. Follow him on Twitter @KAustin_AA.